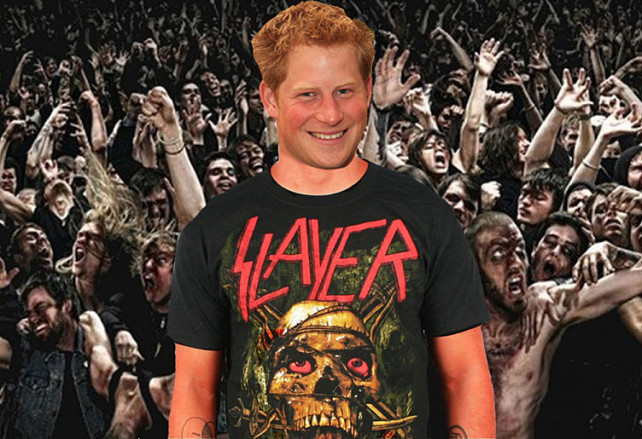 Now that Prince Harry completed his role with the Regiment Army Air Corps with plans to become Staff Officer in HQ London District, and quitting his role as a helicopter pilot, the 29-year-old royal highness will be spending more quality time doing things a young rebel should be doing. Like laying his man pipe in his new girlfriend Cressida Bonas in the Swiss Alps for a romantic break, or thrashing to some good ol' Slayer.
Oh! Did you not know this mate is a fan of heavy metal? Well, apparently he is according to actor Dominic West, a dude that played in half a dozen action movies like 300, Punisher: War Zone, and Centurion, just to name a few. Speaking to The Daily Star, Mr. West revealed that the prince enjoys all the members of the Big 4:
Harry has a terrible selection on his iPod. It is the sort of thing soldiers listen to. Hardcore thrash metal.
Who knows, maybe he will completetly ditch the romantic getaway, and head straight to a metal concert. If he does and you see him, then make sure to give the prince a high five, or buy him a shot of Jägermeister.