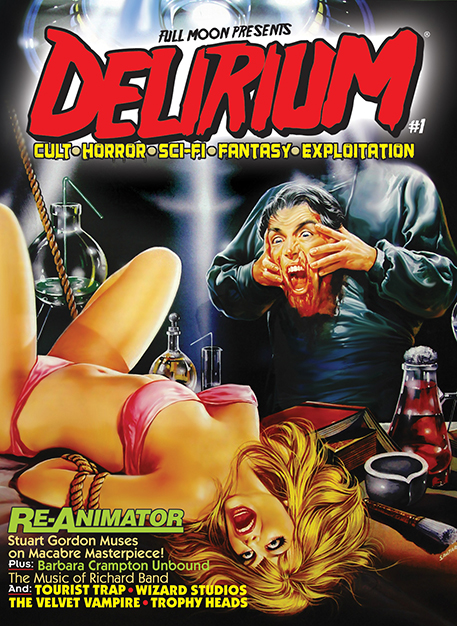 Charles Band — famed producer, director, and founder of Empire Pictures and Full Moon Features — is launching a limited-run collectible and bi-monthly print magazine called Delirium. So, if you get freaky for tiny things, like those found in Puppet Master or Dolls, or if you just get off on the weird pop art subgenre of horror, fantasy, and exploitation offered in such films as Tourist Trap, Re-Animator, From Beyond, Parasite, Subspecies, Head of the Family, or The Gingerdead Man, then you're gonna want a subscription. (Pre-order at www.deliriummagazine.com)
The first issue of Delirium will feature Stuart Gordon and Barbara Crampton as they take a trip down memory lane and discuss their days making Re-Animator. Other notable Full Moon alum that you might expect to see in future issues include Klaus Kinski, Demi Moore, Helen Hunt, Michael Moriarity, and Jeffrey Combs. The first issue will also offer insights into Full Moon's upcoming Scream Queen web series, Trophy Heads.
As the magazine is described at www.deliriummagazine.com, Delirium is:
A bloody, bold, and beautiful magazine published by Band, produced by the Full Moon Features team and edited by filmmaker, film journalist and FANGORIA Magazine editor-in-chief Chris Alexander. DELIRIUM features exclusive interviews, bizarre stories, garish photos from Band's expansive and foreboding vaults (many of which have never been seen before), posters, retrospectives, special FX make-up secrets, laughs, shocks, thrills and chills.
Delirium, which will not be available on newstands, is coming this February!
Rock Hard \m/