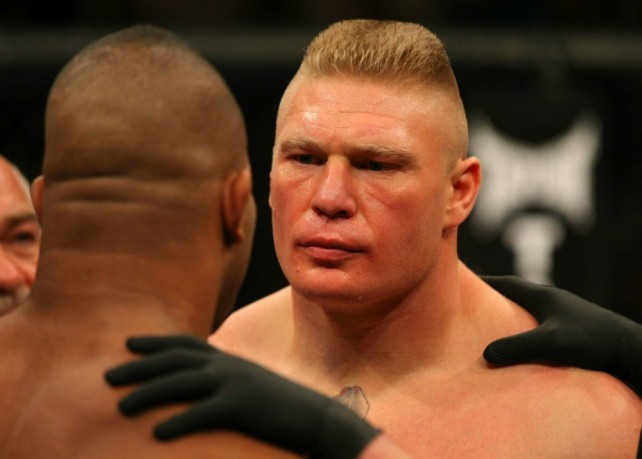 After the pre-fight presser for UFC 168: Weidman vs. Silva 2, rumor broke out that former UFC Heavyweight Champion Brock Lesnar will be attending the last UFC event of the year, which is UFC 168 and it takes place tomorrow night in Las Vegas.
According to MMA Fighting, UFC President Dana White didn't deny the possibility of Lesnar stepping back inside the Octagon, and trying another run for the UFC heavyweight strap one last time.
When asked about Lesnar, White said the following, while repressing a grin:
I honestly don't know… Honestly, I don't know.
The 36-year-old part-time wrestler for the WWE might just be attending tomorrow night because the fight card for UFC 168 is simply stacked with stellar bouts, including two title fights and a heavyweight match up between Josh Barnett and Travis Browne. Or he really is looking to sign a contract with the UFC. All I know is that Lesnar would still be a huge draw for pay-per-view buys since his rematch with Frank Mir at UFC 100 broke the PPV record with 1.6 million buys. Lesnar is clearly still a great asset for the heavyweight division, and I doubt White would have an issue signing him.
Apparently, White is expected to announce something big for 2014 during the post-fight presser for UFC 168. Could it be the signing of Lesnar? We'll just have to wait and see.