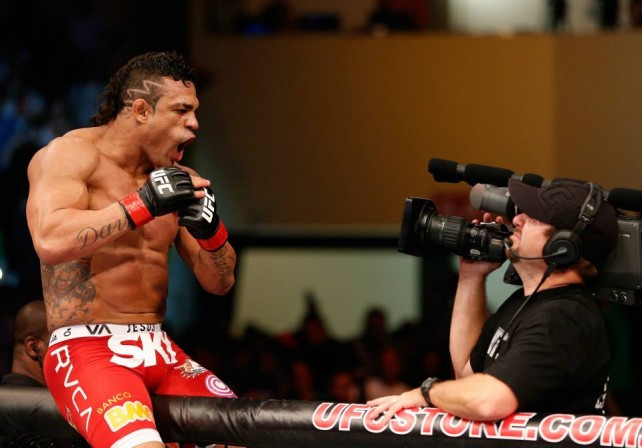 Former UFC Light Heavyweight Champion Vitor Belfort won't need to dispatch another devastating head kick or heel kick knockout to earn a middleweight title shot. According to an announcement made by UFC President Dana White, Belfort will most likely face the winner of the UFC 168 bout between Anderson Silva and UFC Middleweight Champion Chris Weidman. UFC 168 takes place on December 28, 2013, at the MGM Grand Garden Arena in Las Vegas, Nevada.
Even Silva believes "The Phenom," with three impressive consecutive wins over top contenders in the UFC, deserves the next shot at the middleweight title. Belfort recently destroyed Dan Henderson at UFC Fight Night 32 with a head kick knockout in the very first round, becoming the first fighter to defeat Henderson by strikes.
Belfort is confident that he will be champion again, and recently revealed that he isn't picking a winner in the main event at UFC 168:
I'm just waiting for the winner, I don't create expectations because I can get frustrated in the end. I've earned my shot at the title and I will fight whoever wins this fight. I just want to get in there and hear them say 'the new middleweight champion.' I have a goal. I will defeat the champion and get the title.
In addition, Belfort also believes he's got more tricks in the bag to show inside the Octagon, and his "best is yet to come":
I'll be even better when I return to the Octagon. I know it's hard to believe that I can get even better than this, but I will. I've been training hard, and there are a lot of things that I haven't done yet. My best is yet to come.
With wins over Michael Bisping, Luke Rockhold, and Henderson, expect Belfort to be back earlier next year for the strap.