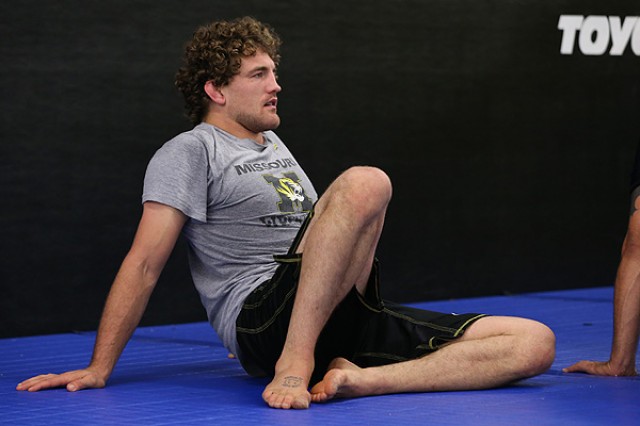 Former Bellator Welterweight Champion Ben Askren (12–0), a free agent since last week, is still walking around with his hands in his pocket without an official contract with the UFC yet. From the sound of things, especially if the word is coming from UFC President Dana White, Askren won't be stepping foot inside the Octagon anytime soon, at least not until he proves himself with a few more fights in another organization like World Series of Fighting (WSOF).
Askren confirmed on the MMA Hour earlier this week that he will meet with White within the next few days to talk about a contract and some of the terms that he openly mentioned on the show. But according to a new report, White isn't jumping on the Askren train and said that they just won't sign him on Monday. If that's the case, the meeting already sounds pointless to me, and Askren should just take the offer from WSOF.
White said:
We're gonna meet with him on Monday, we're just not going to sign him. He can go to World Series of Fighting where there's actually some competition for him. There's no competition for him at that other place [Bellator]. At least at WSOF he can get some competition and test himself.
Personally, I don't think White will budge a single bit even if Askren offers him a term like fighting for free against Rory MacDonald and retire from the sport if he lost. As confident as he sounds about his success in the UFC and offering career-ending terms to White, my gut feeling is Askren will sign with WSOF in the following week.
Let's just hope whatever happens on Monday is at least a step toward the UFC and not back to Bellator MMA.