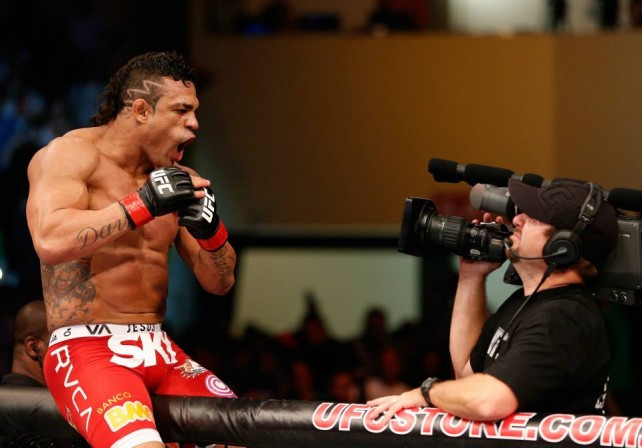 The one word that best describes the free UFC event last night in Goiânia, Brazil, and that word is "quick." Only two bouts on the prelims for UFC Fight Night 32: Belfort vs. Henderson went past the first round, and three out of five ended by TKO or knockout.
It was the exact same pace for the main card, fights ending by either submission or knockout. If you happened to skip last night's epic event, great news for you, we've got all the results for UFN 32 right below. However, I'd like to point out that I was most impressed by the performance of Jeremy Stephens (22-9), who finished Rony Jason (13-4) with a beautiful head kick at 40 seconds into the very first round. Also, Brandon Thatch (11-1) is worth a mention for the top performance of the night since he defeated Brazilian mixed martial artist Paulo Thiago (15-6) by submission with a knee to the body and punches. You should start to pay closer attention to Thatch because he's been finishing all of his fights in the first round, and only one of them went to decision. I have a feeling this American fighter is going to move up the ranks faster than a lightning bolt.
Knockout of the Night
Lastly, the fight that everyone is talking about on Twitter, and the one that earned a man the Knockout of the Night bonus award goes to UFC legend Vitor Belfort (24-10), who just seems unstoppable since his loss to Jon Jones at UFC 152. Belfort is now running on a three-fight win streak with the latest one over another MMA legend, Dan Henderson (29-11). The fight started off slowly without a single strike in the first 60 seconds, but Belfort saw an opportunity to move in quickly afterward and finished Henderson with strikes and a head kick that sent him to the ground. Belfort is the first person ever to defeat Henderson by strikes in 16 years.
A stellar performance by Belfort all together, and I wouldn't be surprised if he gets a shot at the winner of Anderson Silva and UFC Middleweight Champion Chris Weidman.
---
UFN 32 Main Card Results
Vitor Belfort def. Dan Henderson KO (head kick)
Cezar Ferreira def. Daniel Sarafian Decision (split)
Rafael Cavalcante def. Igor Pokrajac Submission
Brandon Thatch def. Paulo Thiago Submission
Ryan LaFlare def. Santiago Ponzinibbio Decision (unanimous)
Jeremy Stephens def. Rony Jason KO
Preliminary card (Online Prelims)
Sam Sicilia def. Godofredo Pepey TKO (punches)
Omari Akhmedov def. Thiago Perpétuo KO (punches)
Thiago Tavares def. Justin Salas Submission (rear-naked choke)
Adriano Martins def. Daron Cruickshank Submission (straight armbar)
Dustin Ortiz def. Jose Maria Tome TKO (punches)
---
Bonus Awards ($50,000)
Fight of the Night: Thiago Perpetuo vs. Omari Akmhedov
Knockout of the Night: Vitor Belfort
Submission of the Night: Adriano Martins