If you want to watch scantily clad women, some of whom are wearing DevilDriver undies, gratuitous violence, and a semi-homage to Tarantino, then you probably don't want to miss Midnight Releasing's Gone Dark. The Pascal-directed film, starring cult film superstar Bill Oberst, Jr. (Children of Sorrow, Blackout, Abraham Lincoln vs. Zombies, Take This Lollipop, The Secret Life of Bees) is now available on VOD this month and can be found on cable and Internet providers such as Cox, AT&T, Verizon, Charter, SuddenLink, Amazon Instant Video, Vudu, Google Play, Xbox, and more. The official DVD will be released January 7th, 2014.
Gone Dark also stars Pascal, Leif Gantvoort (Black Tar Road, CSI: NY, Criminal Minds), Mary Elizabeth Pohl (Fright Night) and Rance Howard (yes, Ron Howard's father). Rance Howard has described the film:
The project, or the material, the script, reminded me of Pulp Fiction, and I thought, well, gee, you know this maybe can out pulp Pulp Fiction.
About Gone Dark
Gone Dark is a bloody and brutal romp that challenges the envelope by pushing it in every way it possibly can. Guns, drugs, babes, Gone Dark has it all. Gone Dark is Natural Born Killers meets Kill Bill and is sure to leave audiences talking. Another cult sensation is born.
Gone Dark synopsis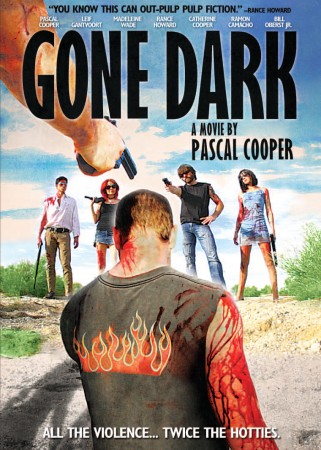 Five years ago Jack's partners helped him fake his death. When his little sister, Kim, becomes an agent she finds evidence that shows his partners killing him and blames them for his death. She goes off the grid to hunt them down and starts climbing the drug food chain to find Jack's former friend and closest partner, Slick, who took the blame for pulling the trigger on Jack. When the company finds out what's going on they send in several cleaners to clean up the mess they already tried to cover up. Everything gets bloody when Jack finds himself in the middle of an every-man-for-himself hunt to the death where only the last man standing will walk away.
Rock Hard \m/