Formed in 2009, the Estonian metal act, Freakangel, masterfully brings together a variety of musical genres, primarily electronic and industrial metal. Their music is as violent as it is erotic… and so is the new video for Freakangel's latest single, "The Ones to Fall."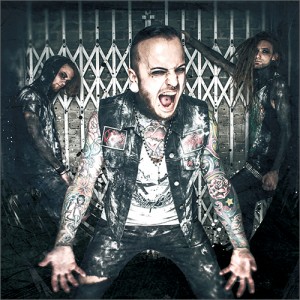 The band has actually had to release two versions of the video, the uncensored version (above) and a censored version for YouTube. The band and their label, Alfa Matrix, literally uploaded the uncensored video to YouTube, which was promptly banned from distribution on the site. What's so controversial? Not too much. Just some nudity and sexually suggestive situations. Thank god for Vimeo, right?
The video was directed by Aleksei Kulikov and was made possible thanks to a crowd-funding campaign the band set up on IndieGoGo.
Just four years into their career, Freakangel have already released three albums: The Faults of Humanity, Let it all End, and The Ones to Fall (technically, that last album won't be out until November 1st.). The band has also released a DVD and two EPs. This is a hungry band and one to watch out for, even if they only end up with 15 minutes.
As a thank you, all funders on IndieGoGo will get an extra bonus CD featuring 10 extra tracks and more.
Freakangel is:
D. Darling – voices, keyboards, programming
Art – lead & rhythm guitars
Roman D. – drums, percussion
Rock Hard \m/