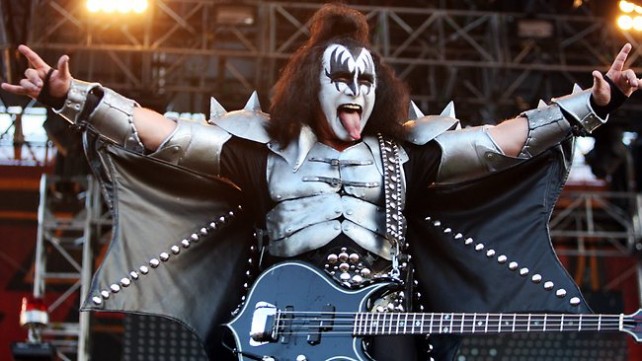 In an interview with Team Rock Radio, Gene Simmons talked about a number of things. Besides the newly purchased LA KISS arena football team, an upcoming KISS movie, his new book, and subtly insulting Ace and Peter, the Demon talked extensively about rock iconography.
Essentially, Simmons disregards Kurt Cobain as an icon because Nirvana doesn't have an extensive enough catalog and dying prematurely doesn't necessarily equate to icon status. And I agree with him. Yes, Cobain helped usher in a musical revolution, if you will, but he certainly didn't do it alone — and as I've said before, Cobain was in the right place at the right time.
The bigger issue I have with Simmons' comments have to do with his assertion that there haven't been any icons since the years prior to 1984. By his definition, a musical icon is someone who exceeds the music and has a deep catalog. The first part of his statement dealt with the years between 1958 and 1983, and he challenged the interviewer to name 100 icons from those years. He answered for her, citing bands/artists like Elvis Presley, The Beatles, The Rolling Stones, Jimi Hendrix, The Who, Aerosmith, KISS, and Led Zeppelin. But like a good sheep, the interviewer was mum when Simmons asked her to name icons from the last 30 years, emphasizing his point by saying that there haven't been any. That's a problem.
Gene's bold assertion negates the work of many bands/artists within rock and metal, and big ones too. Now, I'm going to name a few bands as icons from the last 30 years, though I'm sure that's not what Simmons meant, because he opened that can by naming his band, The Beatles, The Rolling Stones, etc.
So, Mr. Simmons, although I love you and KISS to death, do you mean to tell me that the following bands/artists are not icons?
-Metallica
-Megadeth
-Anthrax
-Slayer
-Dave Grohl
-Iron Maiden (I'm extending into the years prior to 1984 a little here, but I think it's warranted)
-Guns 'n' Roses
-Mike Patton
-Rob Zombie
-Pantera
-Bon Jovi
-Henry Rollins
-Red Hot Chili Peppers
-Dio
-Pearl Jam
-Motley Crue
So, those are the main ones I can come up with on the spot, and I think it proves the point that there have been plenty of icons since 1984. Simmons is right on another point though; record labels don't back bands like they used to.
But I encourage you to check out the short interview. Then Yell about it in the comments section below.
Rock Hard \m/