I'll admit that I have not yet seen World War Z, but I have read the book. I'm actually afraid to see the movie because it's been said that it's not that good, and judging by the trailers, it doesn't really follow the book. However, the obvious knock-off movie, Ridge War Z, seems like it might bear a slight similarity to the World War Z book. (By the way, I'm curious to know what the porn knock-off movie will be called — just sayin'.)
The book is structured as an oral history, in which there's a journalist gathering various stories from key players at various stages of the war against the zombies. I fully intend to watch World War Z, and at that time I'll be better equipped to comment, but that's the major part of the book that I don't think was adapted for the movie. Ridge War Z does, even if not as far reaching as Max Brooks has done. Read the official synopsis, and I think you'll understand>
Ridge War Z synopsis: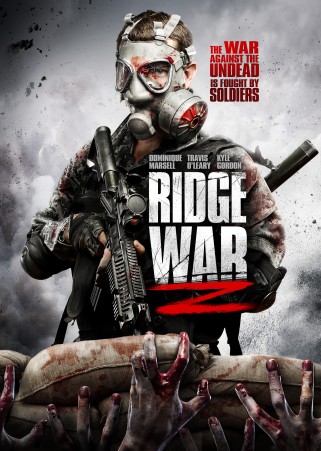 Three years have passed since the zombie war had been won, but for the veterans who fought in that terrible conflict, their memories and pain won't let them forget. Now the only three surviving veterans of the most brutal battle of the entire war (Gory Ridge) return to recount their horrific experiences to an author who intends to write a book so that the world may better understand the sacrifice of the American infantryman during the great zombie war. It is a story of horror, honor, sacrifice, and brotherhood. This is war, scars and all.
So, we have zombies and military. Aside from reminding me of the World War Z book, there's also an Apocalypse Now/Platoon feel to the film.
Ridge War Z, starring Dominique Marsell, Travis O'Leary, and Kyle Gordon will be available on DVD November 5, 2013, from Brain Damage Films. The Video on Demand (VOD) run will begin on November 1st.
Rock Hard \m/