Every Machete Kills trailer that drops keeps getting better, and this new one just raised a stupid thought in my head. If Danny Trejo's character in this film by Robert Rodriguez is invincible, then I have a gut feeling he could put up a good fight with horror icon Jason Voorhees. Like c'mon, don't you see both are masters at wielding a machete? Plus, Machete is practically unstoppable like Voorhees. If electrocution and arms dealer Luther Voz (Mel gibson) can't kill him, then let's see him face the best in the killing business.
I'm sure you think I'm nuts, but this thought might not be such a bad idea after all, if you watch this new Machete Kills trailer.
Check it out and leave us a comment about it below.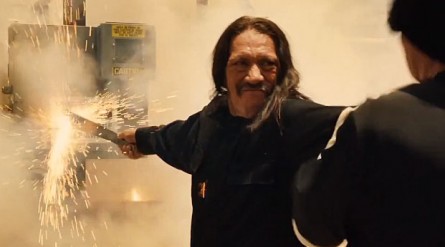 About Machete Kills
Danny Trejo returns as ex-Federal agent Machete, who is recruited by the President of the United States (Charlie Sheen) for a mission which would be impossible for any mortal man – he must take down a madman revolutionary and an eccentric billionaire arms dealer (Mel Gibson) who has hatched a plan to spread war across the planet.