Holy crap! Zombie Hunter is amazing. It's deliciously bad, but it delivers where it should in spades. There's action, cheese, gore, sex, and humor. Actually, we could have used a lot more sex, but the idea was there.
The film made its world premiere at Montreal's Fantasia Film Festival last night and the crowd went wild and stayed totally engaged throughout. Cheers and laughter showed their righteous approval. As the world premiere, first-time producer Chris Le introduced the film. He told us that he was shocked when he learned that the line outside the theater was for Zombie Hunter, and he was totally humbled by the turnout.
Although director K. King couldn't be there, Le told us that they wanted to make an homage to Drive, grindhouse films, and Mad Max, but with zombies. That's what they did to great success. What Le didn't tell us, however, was the painfully obvious hommage to The Texas Chainsaw Massacre. I'm still undecided how I feel about that.
The film is narrated by our hero, Hunter (Martin Copping), and so much of Zombie Hunter's success rides on his delivery. What works about his delivery is how straight even the most ridiculous statements come out as serious fact in his world. What's more, Copping sounds exactly like Corey Feldman – and that's just awesome.
Danny Trejo also stars, and he's as badass as usual. I'm always amazed at how he's so fit and agile at his age. He's like the coolest grandfather anyone could ask for.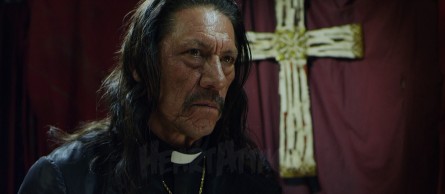 Some things are taken a bit too far in the movie, such as the beast, and some of the CG effects are horrible, but in general, I love what they did. In a lot of ways, the visuals in Zombie Hunter reminded me of Manborg, but with greater resolution.
Zombie Hunter synopsis:
Zombie Hunter is set in a post-apocalyptic Zombie wasteland caused by the mysterious street drug "Natas." We follow one man who has nothing left other than a beat up Camaro and a trunk full of guns and booze. He runs down Flesh Eaters, hunting for sport and redemption, while also running from his past. After crashing into a small group of survivors, who are running low on resources, he decides to lend a hand. But a surprise attack by the Flesh Eaters forces them on the run and puts the Hunter's skills to the test.
The Verdict: [rating:3.5]
Zombie Hunter is definitely worth the watch. It's a fun ride and should be shared with friends. Sure, it has its flaws, but the filmmakers managed to use those to their advantage, making them part of the film's charm. This is a must watch for genre fans.
Rock Hard \m/
Yell! Rating (x/5 Skulls):

[rating:3.5]

Year Released:

26 July 2013 (Fantasis Film Festival)

Director:

K. King

Cast/Crew

Martin Copping, Danny Trejo, Clare Niederpruem, Terry Guthrie, Shona Kay

Genre

Zombie Horror, Comedy, Action, Grindhouse

Official URL: