httpvh://www.youtube.com/watch?v=1FK_3RtRnsU
At the ill-fated 2013 Amnesia Rockfest in Montebello, Quebec, last June, Killswitch Engage played the feverish crowd into a frenzy. Taking the stage at 4 in the afternoon, it was the hottest part of the day and many fans were hungry, irritated, or drunk – maybe all three. It could have been a disaster in that time slot, but the fans turned out and were incredibly receptive.
Killswitch Engage's 10-song set focussed primarily on their latest album, Disarm the Descent and 2002's Alive or Just Breathing, but they threw in a couple Howard Jones-era tracks for good measure (see below for the set list). I doubt they will ever abandon, or be able to live down the Jones-era. Some fans don't even know that Jesse Leach was the original singer, as we learned in our interview with bassist Mike D'Antonio, and there are simply some really great songs in the Jones catalog.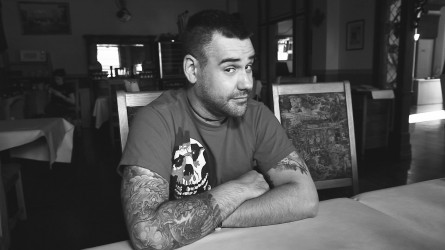 We've interviewed Jesse Leach twice in the past and we really wanted to talk to his Times of Grace partner and KSE guitarist Adam Dutkiewicz for some variety. However, some dipshit from another publication swooped in inappropriately and stole our interview. (We took him out back and threw him in a dumpster after kicking the shit out of him.)
Fortunately, KSE is genuinely a bunch of good guys, including their tour manager, and while Adam D couldn't sit for another interview, he helped us get Mike D'Antonio. It turned out great! We talked about his work as a graphic artist, which includes designing the album art for KSE, the return of Leach, and more.
Check it out!
Rock Hard \m/
Killswitch Engage set list at Amnesia Rockfest 2013:
1. "The New Awakening"
2. "A Bid Farewell"
3. "Fixation on the Darkness"
4. "The Hell in Me"
5. "Life to Lifeless"
6. "Rose of Sharyn"
7. "In Due Time"
8. "My Curse"
9. "The End of Heartache"
10. "My Last Serenade"