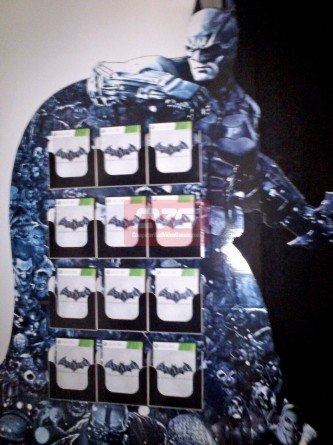 It looks like the Joker is back in Batman: Arkham Origins alongside other supervillains such as Bane, Scarecrow, Killer Croc, and Deathstroke who was previously confirmed in reports. Additionally, it also appears that Deadshot may be in the game as well.
How do we know all this? Well, the original source comes from CVG, who got their hands on a photo of the Batman: Arkham Origins promotional standee provided by a reader earlier today. Unfortunetly, the photo we have is terrible and we can hardly see any of the aforementioned characters, so I'm just taking CVG's word for it. But if you look carefully, you can pretty much tell all of this is true. However, nothing is official yet, so don't go off of this and brag about these details to your friends just yet. Unless, if this turns out false and you're ready to take a punch to the face by one of them in the near future.
Arkham Origins is currently under development at new studio Warner Montreal, and is slated for October 25, 2013 for current-gen consoles and Windows PC.