Alright, so here's the deal: Georges St-Pierre kicked some serious ass on Saturday night at UFC 158 against Nick Diaz, and there's more than one good reason it went down like that. As a packed-to-the-rafters Bell Centre was coming down from the fight-of-the-night Hendricks/Condit battle high, the lights dimmed and Diaz began his walk-out to the sounds of 20,000 boos drowning out his music. The scene was set. The crowd was ready. Bring on the mayhem.
First off, was anyone surprised? I don't think so. Diaz came into this fight the underdog, and not just because GSP fought in his hometown. There's a reason GSP is the champ: he knows the sport like few others do and his skill is evident the moment he steps into the Octagon. Diaz on the other hand holds a wild reputation that straddles the line between skilled fighter and all-out psycho brawler. He has his skills (boxing and stand-up as well as Jiu-Jitsu), but GSP's wrestling game is (and was) clearly stronger.
From the beginning, GSP dominated Diaz with his wrestling prowess. Jabs were exchanged, and GSP got some pretty serious leg kicks on Diaz within the first few minutes. Then it was all about the ground game, as GSP smothered Diaz, used his weight and grappling skills and really controlled the fight for all 5 rounds.
Midway through the fight, GSP got rocked by a good hit by Diaz, but quickly recovered and took the battle back to the ground where he wanted it to be, and kept it there.
As Diaz continued to run his mouth the entire fight, egging GSP on, dropping his arms and taunting his talented opponent, the crowd went wild and GSP just looked more determined.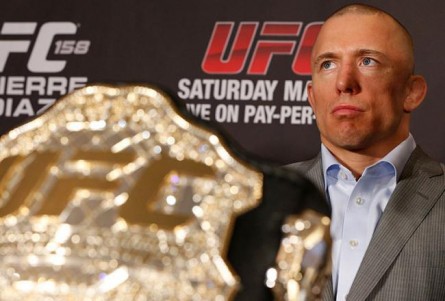 Often criticized for not "finishing" fights, GSP put on a hell of a show, nonetheless, and didn't escape the bout unscathed. Both fighters looked a little worse for wear at the end, but it was clear that GSP was the winner when it went to decision. Always humble in his success, GSP was sure to thank Diaz for his effort and commend him on his abilities in the Octagon.
While a few of the prelim fights were dry, to say the least, the Hendricks/Condit bout and the main event more than made up for it, and the 20,000-strong GSP fan club left happy that night.
Miranda Lightstone is a Montreal-based contributor with a passion for pretty much anything automotive. She also has an affinity for guys making other guys bleed. She was ringside for UFC 158 and was kind enough to offer her insights to why GSP might not be a stand-up guy, though he is humble.