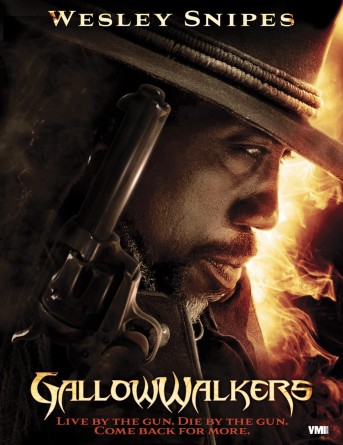 Holy shit! Wesley Snipes in a Western gunslinging pic with a freagin horror theme. That's totally unusual, but the Blade star pulls it all off with his menacing appearance in the first ever trailer of Andrew Goth's Gallowwalkers. It looks cool, it's full of blood, and it's almost weird as El Topo.
Gallowwalkers is expected to be a sure horror crowd pleaser this year, unfortunately we still don't have the official release date since it hasn't been announced. Wrekin Hill Entertainment picked up the North American rights for the film back in February of 2012 that stars Wesley Snipes, Tanit Phoenix, Riley Smith, Kevin Howarth and Patrick Bergin.
A mysterious gunman, Aman (Snipes), is the son of a nun who breaks her covenant with God to ensure his survival. This act brings a curse upon Aman – all those that die by his gun will return. Soon, he is hunted by a gang of his undead former victims, led by the vicious Kansa. Aman enlists Fabulos, a new young warrior, to fight by his side.
Ok, so this is my last update for the evening, and I'm now off to watch the Oscars. Not!
httpvh://youtu.be/ylfZl22YiWs