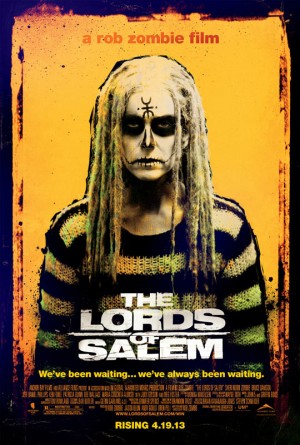 I'm struggling for words right now because I was on the graveyard shift the last couple of days to fix a server problem that has been pestering us for a while now, but I can say that I'm finally back on track to bring you the latest horror movie updates.
I'm kicking off with The Lords of Salem since I want to follow up with a post from last week. Via Twitter, Rob Zombie teased us last week that a new trailer would be coming our way very soon, and because Zombie would never break a promise to his die-hard horror fans who are waiting to see The Lords of Salem in theaters this year, the trailer was delivered. That trailer was also accompanied by a slick new poster and a surprising new release date.
Mr. Zombie also used the power of social media to let everyone know on his Facebook fan page that his masterpiece will be out on April 12th. However, some information is still pretty vague because we still have no idea which theaters will play The Lords of Salem or when it will be out on Blu-ray/DVD.
But, from the sound of things, those details might be revealed this month. So stay tuned to Yell! Magazine for more updates on The Lords of Salem.
httpvh://youtu.be/nT14gtUCNw8