Did you hear that? That was the collective gasp of millions of people saying, "I don't want to wait till February, damn it!" And so concludes the mid-season finale of The Walking Dead, Season 3.
Was anyone else thinking, "so this is how they're gonna play us?" before the opening credits? For a second there, I thought we were going to have a full episode of new people.
Nonetheless, it seems that pretty much everything is in place that the previous episode, "When the Dead Come Walking," setup to happen, and then some. Daryl and Merle are poised to square off. Glenn continues to show off his badass-ness as he fabricates a couple of shanks from a walker's arm and fights to escape despite his beaten state. The Governor was caught off guard, more than once. Carl surprisingly proved to be quite capable, and kind of badass himself. Rick took a backseat to Michonne, however, as she was the one ready to execute the Governor — but, as I predicted, Andrea was there to save him.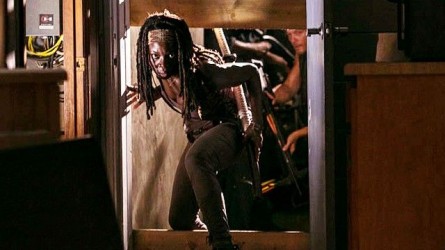 And what is up with that woman? How many lawyers do you know who are that submissive. "Just do as I ask" and she does it. Really? However, a series of events have caused her to have that bewildered expression on her face, once again. Given in the span of this episode she's discovered the zombie-head aquariums, the fact that the Governor was keeping his zombie daughter, she's seen the evil of the Governor as he pits two brothers against each other in the "scream pit," and she's seen Daryl, which should give her some indication that Woodbury isn't what it appears to be. But, what will the Governor say this time to draw her back in?
Or will he say anything? The combination of Michonne giving peace to Penny and Merle's information that Glenn and Maggie's rescuers made it over the wall has certainly given the Governor a new focus. We saw it in his face, which was filled with disbelief, rage, and lust for vengeance. With Penny gone he's no longer shackled to his pre-zombie outbreak existence and free to be as evil as he desires. His speech at the scream pit certainly felt like it was addressed to Penny and like a farewell to his former self, instead of something for the Woodbury citizens. Philip is truly dead.
The Governor's speech also served to rally the citizens, to play into their fears and for him to appear as a victim along with them. Manipulation at its finest.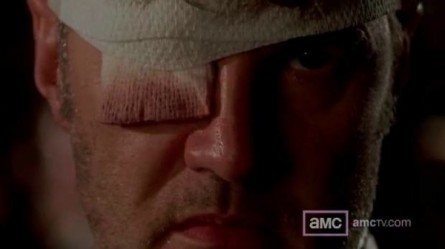 I'm a little bewildered by Michonne's desire to kill the Governor. Is it simply because he wronged her? Or is it because he persuaded her friend to join him? Wait a minute. Is she lesbian? No, sorry, that's Carol.
Further to Michonne's story, she submits to Rick. This is significant to the viewer, but Rick, not knowing Michonne, doesn't realize the subtle meaning of this. It's a good thing, Rick. She likes you and your tribe. Now, with her submission and Andrea's submission to the Governor, one could argue that the women of The Walking Dead are taking an antiquated backseat. But I think we all know that Michonne has her own mind, as she proved in this episode with her mysterious disappearance from Rick's side, and Andrea, as much as I dislike her actions as of late, still has her doubts. I believe when she looked at the Governor's family picture she questioned her budding relationship with him. And as far as she knew at the time, she's free to leave Woodbury whenever she wants, so it's still an option in her mind.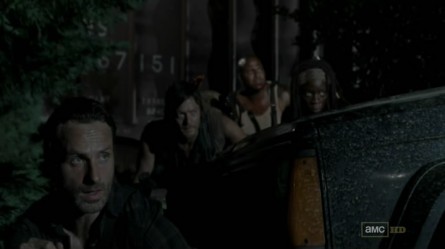 It's kind of funny that we have a revolving door of black cast members. T-Dog dies, that's OK, Oscar will fill his shoes. Well, Oscar, while he pulled his weight, didn't contribute much to the plot. Let's off him and replace him with a new black guy, Tyreese, and a few other people. And so we now have our third group of survivors, which Carl rescued from the prison tombs and locked up. The third group, I believe, consists of good people, and Tyreese is the obvious voice of reason. I love how he referred to Carl as "man" and he pulled his partner away from the bars saying that their situation is the best they've had in two weeks and that it's "his house."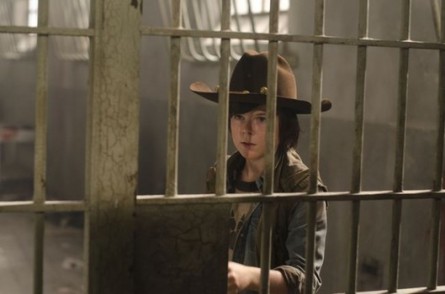 It's pretty clear that this third group has been introduced to bulk up our tribe's dwindling numbers for the inevitable civil war (the symbolism here between Daryl and Merle is so plain to see — it could also turn into a Cain and Abel thing), and I'm pretty sure once Rick regroups at the prison and Tyreese and co. see him with his newborn, they'll quickly join ranks.
As a mid-season finale, "Made to Suffer" was fantastic. It was full of action, full of plot points coming to fruition, and full of questions. It will certainly be a long winter.
Rock Hard \m/