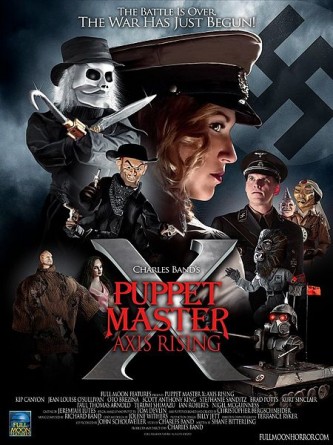 Full Moon Features just released the first red band trailer for Puppet Master X: Axis Rising, which is Charles Band's upcoming 10th sequel in the Puppet Master series. Axis Rising also marked Band's second time in the director's chair in this franchise since Puppet Master: The Legacy.
It's also a direct sequel to Axis of Evil, as Danny Coogan returns once again with the help of his puppets (Blade, Pinhead, and, new recruit, Ninja) to save his girlfriend, Beth, who has been kidnapped by Klaus. Along the way, Coogan must defeat new 12-inch Nazi puppets that have been injected with a serum (such as Blitzkrieg, Bombshell, Weremacht) and one Japanese puppet, Kamikaze.
Puppet Master X: Axis Rising can now be pre-ordered online, and will be available on October 9, 2012, for the Blu-ray/DVD via Full Moon Direct.
httpvh://youtu.be/Wp2h1cLug-M