The official website for upcoming action horror flick Raze is up and running and it looks promising, especially paired with the teaser images that have been released. Raze gives us ample reason to cheer, celebrate, and be ready to look forward to a damned good knockabout. It stars stunt woman goddess Zoe Bell (Grindhouse: Death Proof, Kill Bill) and Rachel Nichols (P2, The Amityville Horror) – and did we mention the girl fights?
The whole premise of Raze is Battle Royale: The Estrogen edition.
"Raze focuses on 2 abducted women and 50 other women who are forced to fight each other using their bare hands, all for the sadistic enjoyment of an elite, voyeuristic society that follows one rule — 'Fight or Die.'"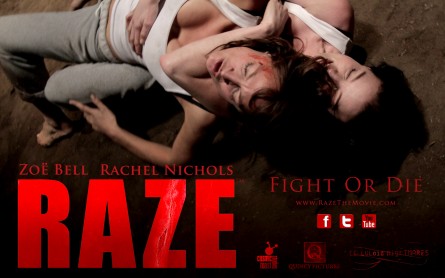 It sounds like there might be a touch of Hostel thrown in there for inspiration too, eh? Also joining the cast for this femme fatale film are Tracie Thoms (Grindhouse: Death Proof), Sherilyn Fenn (Twin Peaks), and Doug Jones (Pan's Labyrinth, Hellboy), among others. The film will be directed and produced by Josh C. Waller, with a script from Robert Beaucage.
Check out the site here, and don't forget to follow Raze on Twitter at RazeTheMovie – they've been having some killer giveaways via Twitter, and it sounds like their Facebook page might be worth your "like" too.