Mark your calendars, Yellers. June 5, 2012, is the day the world as we know it ends. It's the day we all become "prisoners" of The Agonist. While that might sound like a fate best suited for seal hunters, we here at Yell! Magazine are looking forward to it. Prisoners drops on the 5th, and we suggest you buy it, not because The Agonist spent three grueling years putting it together, not because its original release date got pushed back, not because the Montreal-based band is on tour promoting it, but because it kicks ass.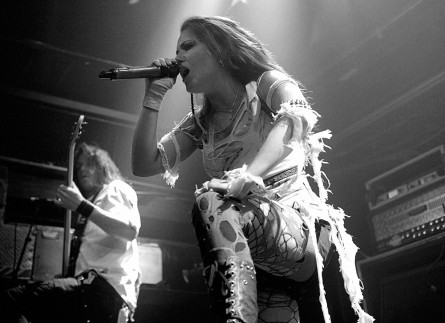 We caught up with Alissa White-Gluz for an interview just after her tight set with The Agonist, but we only had 10 minutes before she had to get back into the venue to do guest vocals with Blackguard. It was a little rushed and we had to blast through our questions, and honestly I felt bad for pulling her away, but we came away with some interesting information for fans.
Find out which metal goddess was Alissa's saving grace, or fairy godmother, or whatever you wanna call her. If you want to be animal friendly with your makeup, she'll tell you the brand she uses. There are a few more nuggets of information in there that we're sure you'll find interesting as well.
If you want to check out The Agonist live, and we highly recommend that you do, here's a list of some their upcoming shows:
Tour Dates – The Agonist
May 24 – Championship Bar & Grill – Trenton, NJ
May 25 – Lowell Brewery Exchange – Lowell, MA
May 27 – Bug Jar – Rochester, NY
May 29 – Bogies – Albany, NY
June 16 – Moe's Original Bar-B-Que – Englewood, CO
June 18 – Lizard Lounge – Wichita, KS
June 22 – Vaudeville Mews – Des Moines, IA
June 27 – Another Hole in the Wall – Steger, IL
June 30 – Planet Rock – Battle Creek, MI
July 11 – Bronx Space – Bronx, NY
July 15 – The Backstage at Championship Bar – Trenton, NJ
July 18 – Ground Zero – Spartanburg, SC
August 12 – Parc Jean-Drapeau (Heavy MTL) – Montreal, QC