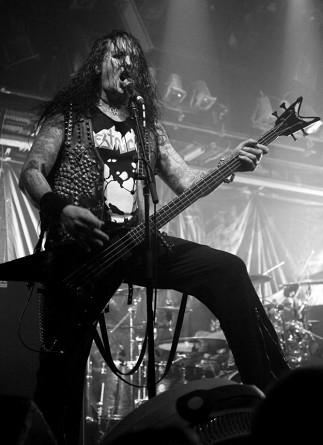 How many of you would like to share a beer with the dominating-in-stature Schmier of the legendary German thrash metal band Destruction? On the tour bus? Well, we did. We also interviewed him and brought a camera so you could see it.
Yell! Magazine will be forever grateful to Schmier for having the presence of mind to think about lighting and sound for the quality of our video interview. We've been growing tired of dingy basement dressing rooms with shitty lighting, sound check going on, and black sofas (which don't go well with the black metal uniform).
After the decision to conduct the interview on the tour bus was established, we headed through the backstage area of the venue and exited via the back doors. Once the doors were open, however, we were greeted by a few fans wishing to have their pictures taken with thrash man. He kindly obliged and even hung around for a few minutes to chat with them.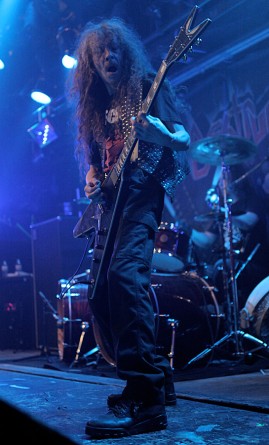 We covered a lot of topics with the Destruction frontman and bassist, such as his Christian upbringing, his views on religion and faith, and things relevant to being in the industry for 30 years. We hope you gain a little insight into Schmier and the band. The conversation went so well and we got pretty deep into some of the subjects we talked about that our interview went over our allotted time. But Schmier was kind enough to complete the interview and even indulged us in some post-interview banter as we all finished our beers, talked some more about the new album Day of Reckoning, Twisted Sister, and sleep on the road.
Truly a kind man and one of the best interviews we've had.
Rock Hard \m/
httpvh://www.youtube.com/watch?v=Ac6w4nNtgX0