We live in interesting times, an era in which we combine and admire the unlikely pairing of traditional pin-up beauty with traditional outlaw or military symbols of masculinity. Tattoos and sexy pin-up women have become relatively commonplace, and we here at Yell! Magazine are grateful for the shift in perspective. There's often a horror element involved with the neo pin-ups and their accompanying ink, which is something else we can appreciate.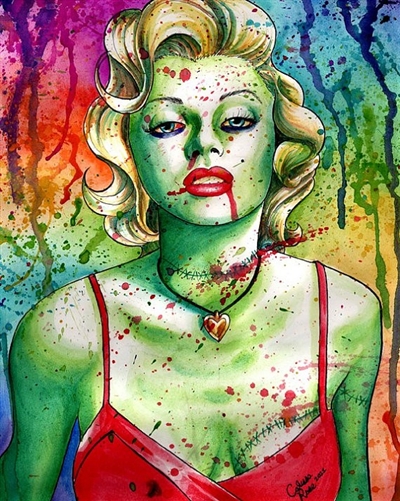 Is there a better way to celebrate the combination of the old with the new, the beauty with the horror, the class with the outlaw, than with a 17" x 11" Marilyn Monroe Zombie Doll print? The original artwork was done by Carissa Rose and the prints are hand signed. Protecting your cool Marilyn Monroe Zombie Doll print is 80 lb semi-gloss cover. Don't neglect to check out the details; the stitched boob is a great touch.
These are only available at InkedMag.com, however, the price has dropped from $29.95 to $19.95.
Rock Hard \m/