Here is great news for anyone looking to experience a trippy new film called Beyond The Black Rainbow, which also marks the feature film debut for director, Panos Cosmatos of Vancouver, BC. So far the press is quite in favor of the film, and Magnolia Pictures just announced the opening starting this Friday.
You can check out the list of dates and theaters that will be playing Beyond The Black Rainbow via the official site. So, if you're one of the lucky viewers who can actually see this visually inventive film in the theater, and consider yourself a lazy bastard, stop playing Max Payne 3, get off the couch, and check it out tomorrow.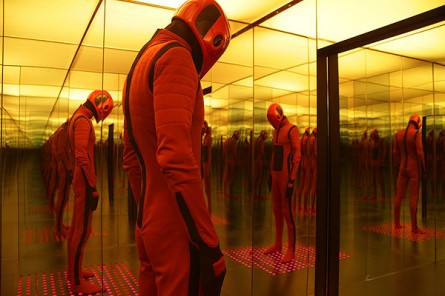 ---
Press
"VISUALLY INVENTIVE – AN IMMERSIVE EXPERIENCE."
– Justin Lowe Hollywood Reporter
"A GREAT FILM. Panos Cosmatos is a genius."
– Noah J. Nelson TURNSTYLENEWS.COM
"FANTASTICALLY TRIPPY. A deliciously narcotic treat for the senses."
– Tom von Logue Newth FILMFRACTURE
"CAPTIVATING. MIND-BLOWING IMAGERY."
– Oscar Moralde Slantmagazine.com
"An experience for the senses."
– Bijan Tehrani Cinema Without Borders
---
Synopsis
Set in the strange and oppressive emotional landscape of the year 1983, Beyond The Black Rainbow is a Reagan-era fever dream inspired by hazy childhood memories of midnight movies and Saturday morning cartoons.
From the producer of Machotaildrop, Rainbow is the outlandish feature film debut of writer and director Panos Cosmatos. Featuring a hypnotic analog synthesizer score by Jeremy Schmidt of Sinoia Caves and Black Mountain.
Source: Magnolia Pictures
httpvh://www.youtube.com/watch?v=Q1ertVYn750