When DragonForce rolled through town, we here at Yell! Magazine knew that we had to interview the guy who plays a million notes per second on guitar. That guy is Herman Li. We were also joined by Frédéric Leclercq, who was late (tick tock).
We talked extensively about DragonForce's new singer, Marc Hudson, and what he's bringing to the band. Other topics of discussion included growls, Nintendo and Guitar Hero (but we chopped that bitch up and left it on the editing room floor), Marty Friedman and other various influences such as Argento, Goblin, and Contamination, and the nerves and jitters that come with introducing a new album with a new singer on a fresh tour.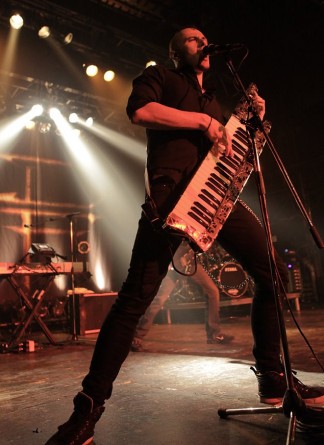 It's a big year for DragonForce and if you're a fan residing in North America, you know it's been three long years since the band last came around. You best not miss this tour and you better support your band if you want them to come around again any time soon. Seriously, if you were an international band (speaking of DragonForce's members alone), would you want to spend much time in North America?
DragonForce is currently joined by Huntress and Holy Grail on The Power Within Tour.
Rock Hard \m/
httpvh://www.youtube.com/watch?v=41FVLzIagrA