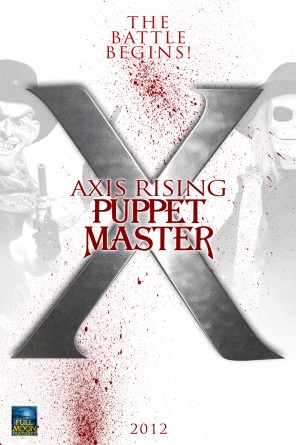 Our good friends over at Full Moon Horror have been busy. With Axis Rising, the latest entry in the franchise best known for causing more adult-onset cases of microphobia than a zombie Gary Coleman rising from the grave, Full Moon hopes to ensnare a whole new generation of Puppet Master fans. FYI: Zombie Gary Coleman: The Movie? Paging Mr.Band, Mr. Charles Band? The fine folks at Full Moon have sent over a few promotional pictures of the new puppets, feast your eyes on these beauties!
[Editor's Note: Yell! Magazine truly loves Full Moon. We're not just being nice because they sent over Charlie Spradling for TheMatt to drool over. Not that he needs an excuse to drool. We think it's a glandular problem. Actually, it's a problem. Period. We're running out of mops.]
Bombshell
Puppet Master X: Axis Rising

Bombshell is wearing a delightful 2-piece ensemble: boobs! The
Puppet Master
franchise has had female protagonists before, but this sultry Fraulein puts the "fem" in gigantic metal bustier. Or something. I'm certainly standing at attention.
[Editor's note: TheMatt stands at attention when a cool breeze hits his shorts the right way, so this is in no way a creepy fetish for micorporn.]
---
Weremacht
Puppet Master X: Axis Rising
And I thought I had a glandular problem. I have to give props to Full Moon for coming up with a lot of fun WW2-themed names for its new wave of puppets. Weremacht! Get it?! Because he's a werewolf! Hey, I have to explain these things for the slow readers. Yell! Magazine does not exactly cater to a high-brow audience, ya know? I can't wait to see this guy in action. I wonder if he starts out as a normal puppet and transforms into a werewolf? One thing's for sure, I bet he does a mean Shakespeare…

…wherefore art thou, Romeooooooooooo!
[Editor's note: Yell! Magazine holds its readers in the highest esteem. We'll redirect your hate mail to TheMatt… hell, if you ask nicely, we'll give you his home address.]
---
Blitzkrieg
Puppet Master X: Axis Rising

But how does he scratch his nose? Ah, who cares?! This puppet is by far the most heavily armed of Andre Toulon's progeny. Makes you wonder just how much damage those cannons can do. If good ol' Six-Shooter could make short work of humans with his revolvers, one would think that Blitzkrieg is certainly capable of living up to his name.
---
Kamikaze
Puppet Master X: Axis Rising

I'm reminded of that old joke: "I have one really, really good trick, but I can only do it once!" Then the guy blows himself up. I wonder how much good this puppet is in a fight. Are there several of him or just one? I can totally see a scene where wave after wave of Kamikaze puppets launch suicide attacks.
Puppet Master: Axis Rising will be available soon. Keep checking on Yell! Magazine for updates and make sure to pay a visit to our friends at Full Moon Direct for the latest news on all their projects and for some amazing loot! Can you honestly say you can go on living without owning your very own copy of Evil Bong? Of course not! Don't tempt fate! Everybody knows St. Peter requires a DVD copy of Evil Bong before letting you past the Pearly Gates. It's in the Bible.