It's that time once again: another major MMA event has come and gone, and it's time for my unofficial "Best Performance of the Night" award. Bellator 60 had a slew of good performances from many of Bellator's top Featherweights in the opening round of Bellator's Season Six Featherweight Tournament. But the main event of Bellator 60 featured one of those "Bellator moments" that Bellator fans love to talk about. Here's why Pat Curran's brutal and beautiful KO win over Joe Warren took home "Best Performance of the Night".
Let's begin as we always do, fans and friends: by putting the situation into context.
Coming into this fight, Joe Warren was still Bellator's Featherweight Champion despite coming off of a KO loss. That loss came to Alexis Vila (who eventually fought to the finals of that tournament) in the opening round of Bellator's Season Five Bantamweight Tournament. Before the tournament, Warren made the bold claim that he would become the first man in Bellator history to ever hold two championships.
That is not what happened.
Indeed, Vila's KO'ing of Warren will probably hold a permanent spot on Vila's highlight reel. Ironically, Warren only grew cockier following the most humbling and high-profile loss of his career. He virtually cast aside his opponent, Pat Curran, in the build-up to Bellator 60.
Curran, meanwhile, spent much of 2010 and 2011 rising from relative obscurity to become one of Bellator's biggest stars. It all started with a run at Lightweight that saw Curran beat former UFC star Roger Huerta and Bellator star Toby Imada. Curran came up short in his shot at Bellator Lightweight gold, losing to then-champion Eddie Alvarez by Unanimous Decision, but he immediately rebounded by fighting in and winning Bellator's "Summer Series" Featherweight Tournament, winning two of his three tournament fights by highlight-reel stoppage.
If you don't know how the Curran/Warren fight turned out, do yourself a favor and find a .gif of the final moments or, even better, the full video of the fight. Curran more or less controlled Warren and picked him apart, waiting for the optimal opportunity to begin a fight-ending barrage. That fight-ending barrage eventually came in the form of an epic beatdown consisting of knees, hooks, and uppercuts as Warren put up next-to-no defense.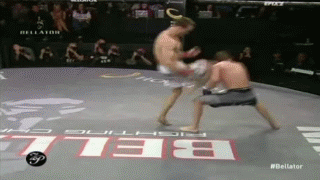 Was it a late stoppage? I'm just about certain that it was. Warren was eating a tremendous amount of shots, and to be completely honest, the only thing holding him up was the cage. Even one of the Bellator announcers pointed this out. When Curran landed some final uppercuts and legitimately KO'd Warren, the fight should've realistically been over at least ten seconds beforehand.
But let's not dwell on that, because it diminishes an amazing performance. Pat Curran did what he had to do to get the win, and you know what he did?
He gave us the greatest performance of his young career, and he sent a firm message both during the fight and in his post-fight interview: this is only the beginning.
And you know what? I believe the man. With this victory, and with all his other performances in Bellator, I think at this point you have absolutely got to consider Pat Curran one of the Top 10 Featherweights in the world. I even think you can consider him the best lighter-weight fighter currently competing outside of the UFC, period. Because he realized his full potential by putting on one of the most brilliant and dominant performances I've seen from a lighter-weight fighter in quite some time, Pat Curran definitely takes my "Best Performance of the Night" award for Bellator 60.
---
About the author
Oliver Saenz, also known as PdW2kX, is a freelance journalist, opinion columnist, hardcore MMA fan, and lifelong video game nerd. For more news, views, previews, and reviews on all things Mixed Martial Arts as well as video games, be sure to visit FightGamesBlog.net.
httpvh://www.youtube.com/watch?v=rjAGtQosof0