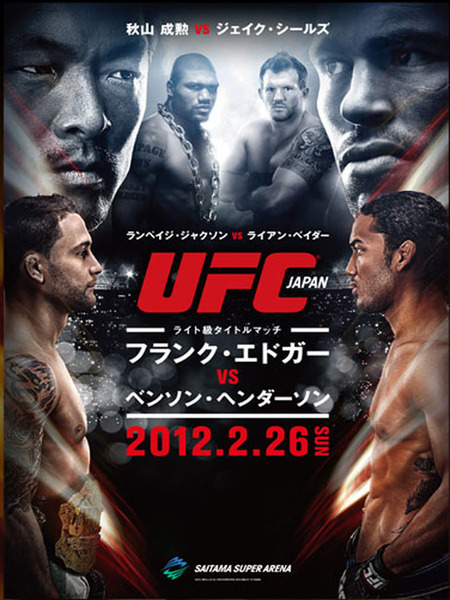 UFC 144 is only a few days away!
On February 26, 2011, the UFC will hold its highly-anticipated "UFC 144" event, featuring Frank Edgar defending his UFC Lightweight Championship against Benson Henderson. Also, former UFC Light Heavyweight Champion and former PRIDE FC mega-star Quinton Jackson returns to Japan for the first time since 2006. Still, some fans may be asking themselves: what are the best reasons to check out this card? Here's my answer to just that: 5 reasons to watch UFC 144.
No.5 The preliminary card on FX boasts some interesting Japanese stars.
Maybe they aren't the biggest stars right now, but back in their day, many of the fighters on the FX prelims were Japanese mega-stars. Takanori Gomi is the most-obvious example, since he was once thought of as the most dangerous, most exciting Lightweight on the planet. You've also got Norifumi "KID" Yamamoto, who was known for his wild knockouts and wilder personality. Riki Fukuda and Takeya Mizugaki may not have been the biggest stars, but they are entertaining fighters.
No.4 Anthony Pettis vs. Joe Lauzon will be all kinds of crazy and all kinds of awesome.
Joe Lauzon is a beast, plain and simple. Most of the time I've got nothing negative to say about him, although sometimes I think he can be hit-and-miss. But to be fair, "hit and miss" perfectly describes Anthony Pettis' run in the UFC. Coming off the famous "Showtime Kick" that practically catapulted him into superstardom, Pettis seems to have fizzled in his UFC run. The great thing about this fight, though, is that both men match up so well with each other.
No.3 If Hatsu Hioki isn't UFC-ready, Bart Palaszewski will prove that.
For all the hype surrounding him before his UFC debut, Hatsu Hioki seemed ready to succumb to the "foreign fighter's curse" in the UFC, which is when fighters who were dominant in foreign countries come into the UFC and fail to live up to their hype. Hioki's close call with the curse came when he won a Split Decision against George Roop. Bart Palaszewski, meanwhile, just knocked out Tyson Griffin. Can Hatsu Hioki really compete with the elite of the division? I honestly don't know, but what I do know is this: if Hatsu Hioki beats Bart Palaszewski, he'll take a big step forward in his efforts to avoid the "foreign fighter's curse". He may have even beaten it entirely.
No.2 Just about all the main card fights are loaded with stars.
In addition to the aforementioned Pettis/Lauzon and Hioki/Palaszewski, you've also got people like Yushin Okami (who just fought for the title), Yoshihiro Akiyama, Jake Shields, Mark Hunt, Cheick Kongo, and of course, former UFC champion Quinton Jackson. Akiyama vs. Shields should be very entertaining, Mark Hunt vs. Cheick Kongo should be very entertaining, Quinton Jackson fighting in Japan for the first time in several long years should be very entertaining as well. In terms of star power, maybe it's not the biggest UFC show. In terms of fight potential, this card is stacked.
And the number-one reason to watch UFC 144 is…
No.1 Frank Edgar vs. Benson Henderson sounds amazing on paper.
How can you not love this fight? Like all fights there's a chance it could end up sucking. But I'm going to only consider the positive going into this fight, since I'm a big fan of both men. I've always believed Frank Edgar had what it took to be champion, and it's been a joy to see him fully mature into the undisputed best fighter at Lightweight. Benson Henderson, meanwhile, has been amazing me for so long that I have no reason to doubt that he'll stop anytime soon. I absolutely cannot wait to see this fight.
---
About the author
Oliver Saenz, also known as PdW2kX, is a freelance journalist, opinion columnist, hardcore MMA fan, and lifelong video game nerd. For more news, views, previews, and reviews on all things Mixed Martial Arts as well as video games, be sure to visit FightGamesBlog.net.