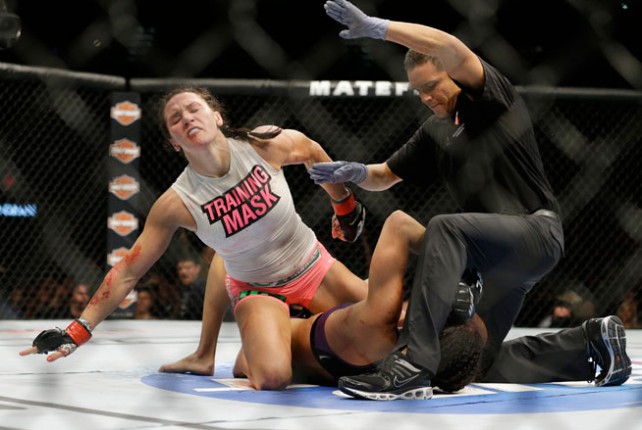 Besides all the buzz the UFC 178 co-main event is receiving, undefeated Cat Zingano (9-0) is also back in the spotlight again after defeating Brazilian mixed martial artist Amanda Nunes last night by TKO in the third and final round. Zingano lost the first round, but she came back strong in the two subsequent rounds for the win and earning herself another title shot with UFC Bantamweight Champion Ronda Rousey.
During the UFC 178 post-fight presser, UFC President Dana White confirmed Zingano is next in line.
She's been away for awhile, she had some injuries. She was dealing with some personal problems, but she is back. The fans needed to see her, and she needed to remind everybody why she was in line for a title fight. She did it tonight.
The champion was watching the fight at ring side and right after Zingano's arm was raised, Rousey smiled for the cameras. Clearly she saw this coming and is now expected to defend the title against Zingano on January 3, 2014 at UFC 182 in Las Vegas, the same event that has Jon Jones squaring off against Daniel Cormier.
As soon as the UFC makes an official announcement, we'll be sure to keep Yellers in the loop.