Mark Bocek (9-3-0) vs. Benson Henderson (12-2-0)

Ben Henderson lost his WEC championship belt to Anthony Pettis in his last match. You should remember it as it included the now famous off the fence kick by Pettis that made all the sports station's highlight reels. The fight was the last event in WEC history as it merged with the UFC afterward. Bocek last fought at UFC 124 beating Dustin Hazelett by submission.
The first round saw Bocek establish his straight right but Henderson did the same with his leg kicks. Bocek was the first to attempt a take down when he followed a straight right that backed Henderson against the cage into a clench. But Henderson defended well reversing it so Bocek had his back to the fence. The two fighters exchanged knees until referee Yves Lavigne separated the two fighters. At 3:21, Henderson landed what looked like a devastating upper body kick but Bocek didn't even react to it.


Bocek landed another right and again followed in with the clench but Henderson again defended and reversed it. While Henderson had Bocek against the cage he let loose with a powerful left elbow to Bocek's head, but again Bocek didn't react to the strike.


The two circled the ring with Henderson landing most of the strikes. Henderson let go of numerous low kicks showing off his superior kickboxing ability, but Bocek was unfazed even trying to use the strikes to his advantage by attempting to grab the American's leg. At 1:28, Bocek tried another take down this time succeeding in grabbing Henderson's right leg. Bocek had to eat punches but he swept the American's other leg to bring him down to the canvas.


While on the ground Henderson defended well. He established a double butterfly guard when he found he couldn't scoot out of Bocek's grasp to stand back up. With less than a minute remaining in the round Bocek couldn't initiate much ground and pound before the horn sounded. In fact, Henderson used his elbow to strike the top of Bocek's head to little effect at the time, but it foreshadowed what would happen in the later rounds.
Round One gave us a good indication for what was to occur in round two. What we would need to see was whether it would be Henderson's strikes while both standing and on his back, or Bocek's take downs, strikes while in the mount, and submission abilities that would prove to be the superior tactics in winning the fight
Round two saw both men circle each other neither landing any strikes of any importance for the first 35 seconds. Afterward Henderson let go with a combination but Bocek was prepared. Bocek absorbed the blows and allowed Henderson's advance to bring them together. Bocek then ducked down and grabbed the American's legs and drove him into the cage. While Bocek was busy with Henderson's lower half, Henderson let loose a flurry of elbows to the Canadian's exposed kidney. Bocek ignored Henderson's strikes and moved to secure Henderson's right thigh. He then displayed an incredible use of brute strength to pick the American up off the ground and slam him to the canvas.


Henderson, while being taken down did not release the hold he had with his right arm around Bocek's head. Because of this he was able to almost immediately pivot to his knees and regain his feet. The two remained in the clench until the referee separated them.
It wasn't long before Henderson struck with another low kick and as before Bocek absorbed the strike and grabbed Henderson's leg. Henderson leaned forward and both men lowered to the ground. But neither could gain advantage so both raised back to their feet. This time it was Henderson's turn to take Bocek down using an inside leg trip. After Bocek failed with an Omoplata attempt, Henderson stood up over the downed Canadian and began striking. Henderson moved to his knees at the side of Bocek and continued to strike. Bocek, as we saw throughout the fight, basically ignored Henderson's strikes deciding to concentrate more on his jujitsu submission attempts. This time he waited for Henderson to stand and then wrapped his legs through Henderson's left leg in an attempt to apply a leg lock.


When the leg lock failed Bocek stood up and the two fighters were back in the clench. Bocek maneuvers into a front headlock and pulls Henderson to the ground. While in the superior position, Bocek turns the headlock into a possible Anaconda choke. But like all of his other submission attempts it failed.


But Bocek didn't release the choke. Henderson stood and Bocek attempted a standing guillotine. While in the attempt Henderson lowered back to his knees and while doing so, Bocek fell backward and tried to add his legs into supporting the hold. But Henderson flipped and broke out of the hold. Henderson was quicker to his feet and he took full advantage. Landing strikes while Bocek stood and continued after, Henderson finally caused some damage to the Canadian.


One of Henderson's elbows opened a cut on the top of Bocek's head. The horn sounded to end round two and Bocek went to his corner bleeding.
Round two was full of action and it seemed to prove that Henderson was the superior fighter. Bocek had the skill to do exactly what he wanted when preparing for the fight but Henderson's athleticism and the strength of his legs nullified all of Bocek's submission attempts. Without his submissions, Bocek was at a severe disadvantage to Henderson's superior striking abilities.
Round three opened the same way as the previous two. Bocek waited for Henderson to kick and then moved in for the take down. Successful in putting Henderson to the ground, Bocek would need to take full advantage in order to win the contest. Henderson while being taken down got a hold on Bocek's head. Bocek gained the mount but with his head wrapped in Henderson's arm, he would need to break it before being able to strike with any effect.
It took only a few seconds for Bocek to pull his head out of Henderson's hold and he now had one less obstacle. He would now need to get passed Henderson's guard. But Bocek seemed content to just strike from the mount. Henderson was not idle on his back. He tried to establish a triangle a few time but it did not amount to anything. While making an attempt to do so for the third time, Bocek moved to his left and pushed Henderson over to expose Henderson's back. Bocek then tried to get his arm around Henderson's neck but Henderson slipped out and gained his feet.
With Bocek still on the ground, Henderson struck with repeated rights. Henderson moved back and forth from his knees to his feet all the while striking with fists and elbows. As he did in the second round, Bocek absorbed the punishment until he could wrap up Henderson's legs in another attempt at a leg lock. He applied it well pinning Henderson's left leg and wrapping his arms around Henderson's waist. But it seemed Bocek didn't have the proper leverage so he released the hold to gain Henderson's back.


Bocek then tried a full back mount to even getting both legs wrapped around Henderson's hips but either Henderson's body was too slippery or Bocek hadn't the strength left to move his arms up for a choke so the attempt failed.


Afterward, Henderson was able to turn around and face Bocek in the clench. Henderson then took Bocek to the ground but it amounts to nothing as Bocek regains his feet soon after. The two faced off with Henderson doing most of the striking until the last 38 seconds of the round where Bocek took down Henderson for the last time. Bocek stayed on top of Henderson for most of the rest of the round landing strikes until Henderson was able to gain his feet with 10 seconds left. The horn sounded and to no one's surprise Henderson won his UFC debut by unanimous decision.
Vladimir Matyushenko (25-5-0) vs. Jason Brilz (18-3-1)
Vladimir Matyushenko is a veteran of the UFC. He first appeared in the octagon way back at UFC 32 beating Japanese fighter Yuki Kondo by unanimous decision. Since then he has fought both for the UFC and the IFL winning constantly. His background is in wrestling but he has powerful strike as well as submission skills.
Jason Brilz also has a background in wrestling. He is coming back from an 11 month layoff. His last fight was a controversial one. If a fight which most observers felt he dominated, Britz went on to lose via split decision to Brazilian Antônio Rogério Nogueira.
This fight lasted all of 20 seconds. The two circled the ring until Matyushenko threw a combination first landing a straight right followed by a left to Brilz's jaw knocking the American to the floor. Matyushenko followed with hammer fists to the downed American and referee Dan Miragliotta stopped the fight at 4:40 of the first round. Brilz recovered quickly wondering why the fight was over. But anyone viewing the contest knew the referee made the right call.

Yves Jabouin (15-6-0) vs. Pablo Garza (10-1-0)
After fighting in Canada for most of his career, Jabouin got a chance to move up to the WEC back in 2009. But the higher level of competition gained mixed results for the Haitian-Canadian. When the WEC merged with the UFC, Jabouin had lost two of his three WEC bouts after compiling an outstanding 14-4 record in Canada. Jabouin is an impressive striker with both his fists and legs. In order to beat the much taller Garza he will need to employ those skills through a major reach disadvantage. Garza would be his first UFC opponent.
Pablo Garza's only loss in his professional career came against Zhang Tie Quan back at WEC 51. Garza is as comfortable on the ground as he is standing. Able to strike with force and submit opponents, he is one of the better featherweight fighters in MMA today. His 6'1″ frame is thin and quick and always gives him a large reach advantage over his shorter opponents.
This fight lasted only one round. Both fighters landed numerous strike with fists and legs. Garza seemed to have the advantage early in round using his superior reach to tag Jabouin numerous times with a highlight being a knee that stunned the Canadian.


Even though Jabouin was taking some punishment you saw in his stance that he was not intimidated by the taller American. Although it took a bit of time to adjust, Jabouin figured out how to hit Garza with force. At 3:42, Jabouin landed a forceful high kick to Garza's head. A few seconds later Jabouin landed a side kick to Garza's midsection knocking the American backwards into the cage.


Even after the two blows, Jabouin wasn't finished showing off his striking abilities. Within a few seconds of landing the side kick Jabouin nailed Garza with two low kicks both downing the American.


Garza stood back up and the two fighters came together in the clench. After a few seconds of knee exchanged they broke and the next impressive strike again came from the Canadian, landing an uppercut that knocked Garza's mouthpiece to to the floor. Referee Yves Lavigne allowed Garza time to reinsert the protective device and the fight continued.


Both fighters exchanged blows with Jabouin landing more low kicks with Garza responding in kind until they entered the clench again at 1:31. That's when the whole fight changed. Garza stunned the crowd by launching himself in the air from the clench and wrapping his legs around the Canadian's head pulling him to the floor and eventually submitting Jabouin with a triangle choke. For MMA fans it was a beautiful thing to watch.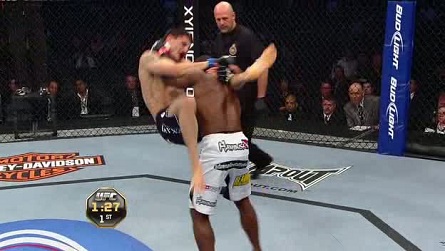 Lyoto Machida (16-2-0) vs Randy Couture (19-10-0)

Lyoto Machida entered the UFC back in 2007 at UFC 67 beating Sam Hoger by unanimous decision. He turned that win (the 9th of his MMA career without a loss) into a seven fight victorious streak leading up to, including, and defending the light heavyweight belt. He took the belt from Rashad Evans, knocking out the American in the 2nd round. He then defended it against Maurício Rua before losing it in his rematch with the fellow Brazilian. The fights made Machida on of the elites of the UFC and Randy Couture would definitely have his hands full.
As for Couture, he is one of the all time MMA greats winning UFC belts fives times in his storied career. The man seems almost ageless but at 47 he is coming to the end of his Hall of Fame career.
It took just under a minute into the first round before either fighter tagged the other with a strike of any significance. Machida got through Couture's defenses to land a right hand. But it didn't phase the American. The two continued to circle until Couture landed a punch of his own (left hook).


From then on Couture stalked Machida around the ring throwing an occasional punch along with Machida throwing punch/kick combinations to little effect. At about the 90 second mark Machida let loose with a vicious knee to Couture's solar-plexus. Randy absorbed the blow and moved in on Machida for a take down but Machida fought it off.


Couture made another take down attempt putting Machida's back against the fence at the 45 second mark but Machida defended well again. Lyoto moved back to the center of the octagon and it wasn't too long before Randy felt the impact of another knee.
The first round ended and from it we could see that Machida was making more of an impact. Couture, who's strength is on the ground, failed in every attempt to put Machida on his back in round one. If this didn't change in round two, Couture would probably lose the battle as he did in round one.
The second round lasted just over a minute before tragedy struck Randy Couture. The two fighters exchanged insignificant blows and at one point Randy almost got Lyoto on the ground but the Brazilian defended it perfectly. Just afterward Machida let loose with a flying front kick that struck flush into Couture's face. It knocked Couture out and referee Yves Lavigne quickly stepped in to stop the fight.

José Aldo (18-1-0) vs. Mark Hominick (20-8-0)
Jose Aldo is pound for pound one of the greatest MMA fighters in the world. Where ever he has traveled and for what ever promotion, he has dominated. When he came to North America and joined the WEC it wasn't long before he took over the featherweight division. When the WEC and UFC merged, Aldo became the last featherweight champion for the former and the first for the latter. Facing Canadian Mark Hominick would be hid first UFC fight and first defense of his title.
Mark Hominick has also had much success in his professional career but not at the level of Aldo. In Canada, Hominick held titles both in the featherweight and super-lightweight divisions and made a successful transition to the WEC afterward. A devastating puncher, Hominick showed his skill when the merge came (with the UFC) making quick work of George Roop at his UFC debut back in January (2011).
The first round began with Aldo showing why he is the champion of the division. Throwing uppercuts and strong lefts in combination with leg licks, Aldo had Hominick on the defensive.


Hominick finally established his punches at the one minute mark and it seemed that the fight wouldn't be an Aldo massacre as many of his other fights had been. At the 3:13 mark, Aldo was successful in his first take down attempt. Amid Aldo's elbow strikes, Hominick made an attempt at an arm bar from his back but it proved unsuccessful.


After the arm bar attempt, Hominick defended against numerous elbows from the Brazilian but not well enough to stop a cut from appearing under his right eye. Referee John McCarthy stood the fighters up at the 30 second mark and the round finished with another take down on Aldo's part.


In the first 90 seconds of the second round Hominick established a better striking style which included uppercuts and body shots. Aldo attempted two take downs but unlike in the first round, Hominick easily stuffed them. Hominick continued to outbox the Brasilian until the 3 minute mark where Aldo, in his third attempt, successfully took down the Canadian.


While in Hominick's guard, Aldo failed to strike successfully spending two minutes punching into Hominick's arms or the ground. By the 1:08 mark McCarthy saw that Aldo wasn't improving his position so he stood the fighters up. Within 20 seconds Hominick was on his back again but this time Aldo gained side control. But Hominick wrapped up the Brazilian until the horn sounded to end the round.


Round three saw the two fighters box for most of the round. Hominick landed more but Aldo's had more impact. Hominick stopped two more of Aldo's take down attempts and seemed to be winning the round. That was until the 1:35 mark when Aldo tagged the Canadian with a devastating right to the side of his head. Hominick went down and Aldo exploded with a flurry of hammer fists. At that point the fight seemed over. But surprisingly Hominick quickly recovered from the onslaught taking Aldo into his guard and surviving until the horn sounded.


The fourth round saw Aldo begin striking with his knees. He caught Hominick twice with inadvertent groin shots but it didn't seem to affect the Canadian. McCarthy warned the Brazilian and the fight continued. Exchanges were made until the 2:35 mark when Aldo landed a right that knocked the Canadian to the ground.


This time Hominick's defence from his back was not as successful. Aldo landed elbows which caused Hominck's forehead to swell like a balloon. McCarthy allowed the fight to continue but at the 0:45 mark he stopped it and called in the ring doctor to take a look at the Canadian.


Surprisingly, the fight continued. It saw Hominick being taken down again by Aldo but time ran out before the Brazilian mounted any offense.
Most would think by this time Hominick was done and Aldo just needed to nail the Canadian with a a strike for it to be all over. That strike occurred in the form of a crunching uppercut at the 4:22 mark. But Hominick, who had been surprising people all night with his heart and determination took the punch that momentarily buckled his knees and turned it into a take down of the Brazilian.


Once Hominick gained the superior position, he lost little time before relentlessly pounding Aldo's face and body.


The Canadian knew he needed to finish Aldo in order to win the fight and for just over four minutes he never stopped attacking the Brazilian. His strikes were effective and numerous but Aldo survived and the round finally ended without a stoppage. As you would expect, the Brazilian won by unanimous decision, but Hominick with his tenacity and astounding recoveries made this championship fight one for the history books.
Georges St-Pierre (21-2-0) vs. Jake Shields (26-4-1)

One of the more boring fights in George St-Pierre's career, it turned into a boxing match rather than and MMA fight.
Jake Shields came into the fight on a 15 match winning streak downing the likes of Dan Henderson, Jason Miller, and Robbie Lawler. When Strikeforce merged into the UFC banner, Shields had his first fight against Mark Kampmann winning in a split decision. Shields was chosen as GSP's next opponent because of that win and the fact that there wasn't many fighters left that St-Pierre hadn't beaten already.


It's not that Shields would be a pushover, he has won many belts in his career including Strikeforce's middleweight championship, but it's hard not to be an underdog when coming up against the best in the world. Most, including us at Yell! Magazine, predicted an easy win for GSP and we all were correct. Other than a few right hands getting through St-Pierre's defenses, which caused GSP some vision problems in his left eye, St-Pierre was in control of the fight from start to finish.


St-Pierre established his overhand right, jab, and an occasional high kick to win the fight by unanimous decision. The whole five rounds were spent off the ground except for a couple of take downs by St-Pierre that he chose not to follow up on. Knowing that Shields fights well on the ground and that he could outbox the American standing up, St-Pierre refused to get into a ground-and-pound match that he had used so often to win fights in the past.


This essentially turned the fight into a five round boxing match with an occasional kick thrown in for good measure. When Shields did try to take St-Pierre down, GSP countered it easily, leading to a boring stand-up duel for 25 minutes. It wasn't pretty or exciting, but it did get the job done. With the win, St-Pierre defended his belt for the sixth time, an unprecedented feat rarely seen in MMA.