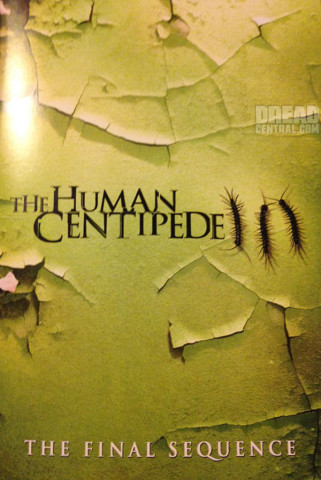 Alright, so we haven't dropped any news on The Human Centipede 3 (Final Sequence) in a while. Honestly, there hasn't been much to cover. Today, we finally scored the very first image from the controversial film, courtesy of Entertainment Weekly. We can now definitely confirm that the villainous duo, consisting of Dieter Laser and Laurence R. Harvey, is officially in the franchise. But what the hell are these two up to inside a prison? One answer, to create the ultimate human centipede with over 500 people.
And why haven't we been able to bring more light on the project? My best guess is Dutch director Tom Six has wanted to keep a tighter lid on his threequel project for his own good. Remember when the plot was revealed for The Human Centipede 2 and how much negative attention that attracted from The British Board of Film Classification? Well, we don't want that happening again, do we? However, we can promise it won't be the situation this time because apparently The Human Centipede 3 won't be as gross as the first two installments.
The film also stars Eric Roberts (The Dark Knight, The Expendables), Tommy "Tiny" Lister (Friday, The Fifth Element), and former porn actress Bree Olson.
Expect The Human Centipede 3 to be released later this year.
---
The Human Centipede 3 (Final Sequence)
THC Part 3 will be totally different from Parts 1 and 2 and certainly not as gross… But it will be the most controversial one politically-wise. It will have a lot of self-mockery and will be the most darkly comical of the three. Parts 1 and 2 have a very European feel. Part 3 is very American with the highest budget, a big movie score, widescreen, and an XXL human centipede. It's set in an American maximum security prison in the middle of the desert. Plot-wise I won't share details yet but if you let your imagination run wild, you might get ideas.