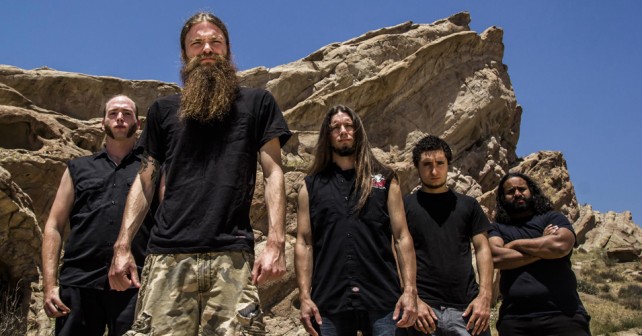 Detroit-based Metal Blade artist, Battlecross, leveled the small Forrest Stage yesterday, and it only took them 30 too-short minutes to do it. Yup, a short but high-impact 30 minutes is as long as their blistering set was… which inspired one crazy fan to climb a tree and head bang, and with his long hair it was real head banging. With their new album, Rise to Power, on the way this August 21st, it was a surprising treat to have roughly half of their set devoted to it, playing such new tracks as "Absence," "Spoiled," and "Not Your Slave." Even if the audience wasn't fully familiar with these tracks, Battlecross' intense brand of thrash metal mixed with melodic death inspired a frenzy of thrashing. Needless to say, the crowd fucking loved it! For me, "Not Your Slave" actually gave me goosebumps with its opening riff and intro, which King Hazard kindly observed sounded like a Motley Crue-inspired riff… you know, but obviously heavier.
Battlecross formed back in 20013, so they've been around for a while, and they're clearly still paying their dues, but this is a band to watch. They have the potential to become something much bigger than what they are, and they should be. It's not just potential, that potential is already on full display. The potential has to do with heavy metal fans.
It should also be noted that Kyle "Gumby" Gunther is a killer frontman who knows how to engage his audience. He has an interesting self-deprecating sense of humor, and it's plain as fuck that he's genuine in his love for his craft and appreciation of the fans.
If you get a chance, go see Battlecross live… and by all means, buy their fucking records!
Rock Hard \m/