Check out the new trailer for the new martial arts horror, The Horde, featuring action star, stuntman, martial artist Paul Logan, who also penned the script. If you're a fan of slashers, you might recognize something that resembles Hatchet meets The Texas Chain Saw Massacre, as well as some key players from the genre.
"The Hunt Is On" with The Horde, on Demand in the U.S. and Canada May 6th, from Gravitas Ventures. A 313 Films and Razors Edge Productions feature, the action-horror film stars Paul Logan (Mega Piranha), Costas Mandylor (Saw IV), Bill Moseley (The Devil's Rejects), Vernon Wells (The Road Warrior), and Matthew Willig (Concussion). Jared Cohn (Little Dead Rotting Hood) directs Logan's script.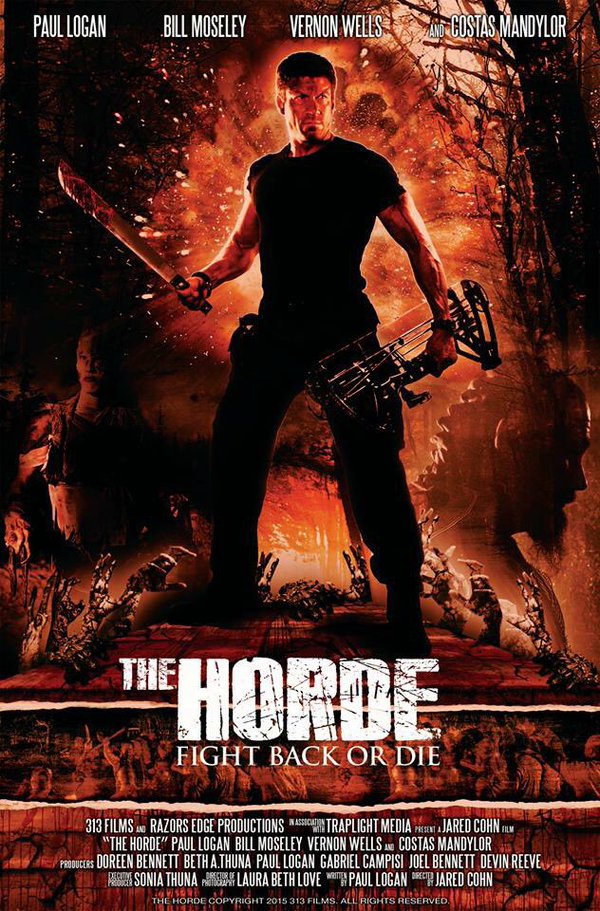 The Horde Synopsis:
The Horde follows ex-Navy Seal John Crenshaw (Logan) as he accompanies his girlfriend and her students on a weekend nature-photography expedition deep into the woods. What should be an educational and fun-filled trip turns into horror as the group is besieged by an unspeakable evil: a horde of hideously disfigured, mutated humans with an insatiable taste for blood. As things go from bad to worse, Crenshaw becomes their only hope if they want to reemerge from the woods alive.
Producers are Doreen Bennett, Beth A. Thuna, Joel Bennett, Paul Logan, Gabriel Campisi, Devin Reeve; Sonia J. Thuna executive produced.
Rock Hard \m/