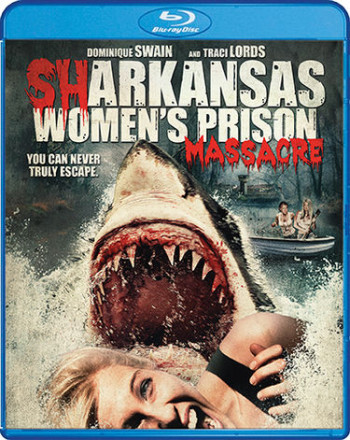 Not long ago… OK, it was nearly a year ago, we brought you the first-look trailer for the Jim Wynorski-directed genre slamming Sharkansas Women's Prison Massacre. At the time we were over the moon about the potential of this B-movie sharkfest, hailing it as something destined for cult-status greatness. Unfortunately, we still haven't seen it.
Our lack of viewing, however, might soon change as the movie is headed for Blu-ray and DVD on May 3, 2016. It's a work-in-progress right now, so no extras have been announced, but we'll try to let you know as soon as we get word.
Sharkansas Women's Prison Massacre stars Amy Holt, Christine Nguyen, Cindy Lucas, Dominique Swain, John Callahan, and Traci Lords.
Sharkansas Women's Prison Massacre Synopsis:
When a fracking mishap accidentally rips apart the earth's crust, the resulting hole opens up a gaping underground waterway to a vast and mysterious ocean somewhere deep below. Instantly, giant prehistoric sharks begin wending their way upward toward a murky bog in the heart of the Arkansas Bayou. Unfortunately for a group of female prisoners on a work detail in the swamp, the deadly sharks attack without warning – pinning a hapless group of intended victims in a small deserted cabin in the heart of the wetlands. Death may be the only means of escape!
Pre-orders can be made here.
Rock Hard \m/