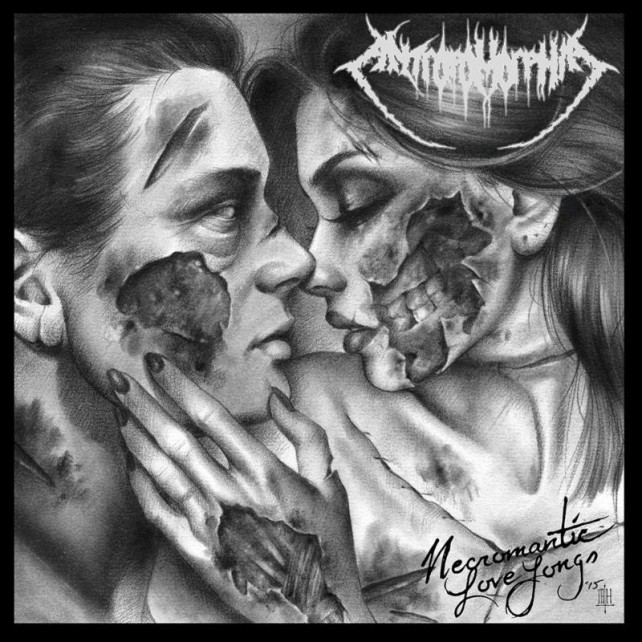 After a 2009 comeback, and after taking heat from the German Federal Department for Media Harmful to Young Persons (BPJM), Dutch death metallers AntropomorphiA are back with a reissue of their first EP and demo, Necromantic Love Songs, set to be released on February 12th, worldwide via Metal Blade Records.
For a preview of Necromantic Love Songs, visit Rock Hard magazine for a stream of the brilliantly haunting and pummeling "Crack the Casket."
To pre-order Necromantic Love Songs, head over to metalblade.com, where the track "Chunks Of Meat" is also streaming.
All tracks have been re-mastered by Tore Stjerna at Necromorbus for the most eerie listening experience possible. Both the LP and CD versions of Necromantic Love Songs are limited and numbered – they won't be repressed once they are sold-out! 666 copies of the LP are available (333 in two different editions), and there are only 1000 copies of the CD.
Singer/guitarist Ferry Damen commented:
'Necromantic Love Songs has been a sonic sepulchral withering that keeps echoing through the years and although it has been 20-plus years since we recorded it, till this day people keep asking when we are going to revisit this release. So when Metal Blade gave us the opportunity to let these restless cadavers rise from their burial chamber — and although a lot of stuff got lost or damaged in those years — we checked our vaults and got out everything we could use to make it a worthy reissue!
Necromantic Love Songs Track Listing:
Necromantic Love Songs EP
1. Crack the Casket
2. The Carnal Pit
3. Birth Through Dead
4. Chunks of Meat
5. Rotted Flesh
6. Outro/A Necromantic Love Song
Bowel Mutilation demo
7. Intro
8. Bowel Mutilation
9. Splattered Remains
10. Rotted Flesh
11. The Carnal Pit
AntropomorphiA has released two albums since their comeback in 2009, Evangelivm Nekromantia and Rites ov Perversion, both available via Metal Blade Records.
AntropomorphiA Line-Up:
Ferry Damen – vocals, guitar
Jos van den Brand – guitar
Marc van Stiphout – bass
Marco Stubbe – drums
AntropomorphiA Live:
Feb. 28 – Tilburg, NL – Netherlands Deathfest
Mar. 12 – Bladel, NL – Wapenfest
Jul. 30 – Steenwijk, NL – Stonehenge Festival
Rock Hard \m/