Did you cut your heavy metal teeth on '80s metal? Then, at one point or another, you probably crushed on Lita Ford. Or at the very least you had fond appreciation for her metal hotness.
Lest we forget (and feel free to scroll down to get the news):
If you're noticing a punk influence on some of Ford's earlier material, and if by chance you don't already know this, it's because her first run at success with with The Runaways, which also featured Joan Jett within its ranks.
OK, that's enough reminiscing, let's get to the news at hand.
Well, it seems the metal queen is getting ready to release a new album, which follows four short years after releasing Living Like a Runaway. The album, cleverly titled Time Capsule (SPV/Steamhammer), is slated for release on April 15th, and features a truckload of guest appearances by the likes of Billy Sheehan (bass), Rodger Carter (drums), Dave Navarro (mandolin), Jeff Scott Soto (vocals), Rick Nielsen and Robin Zander (backing vocals) and Gene Simmons (bass).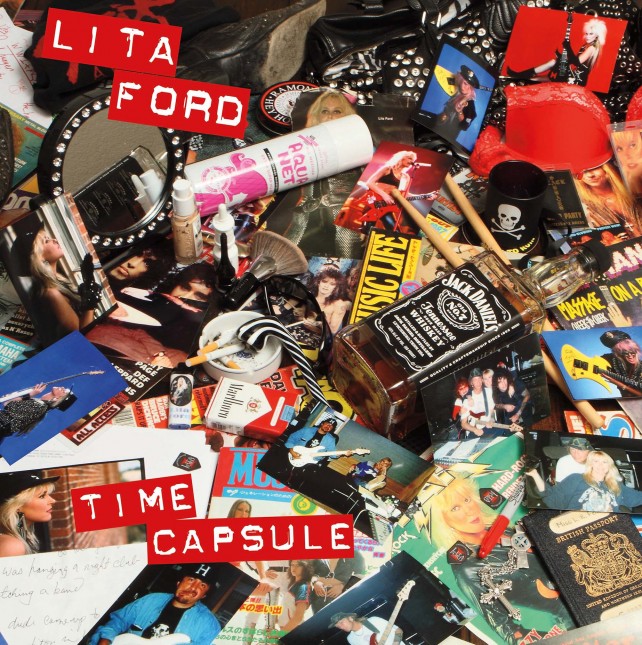 Where this "new," raw material came from, Ford explains:
There was a shitload of these 24-track analog tapes in the closet in my house (in the islands). This is some of the best work I've ever done and it was sitting there. I grabbed two suitcases and took them back to the United States. We could bake these fuckers [due to their age]. If you just put them on the reel, they would flake. I was chewing my fingernails, thinking, ´Please work! ` And they did!
Time Capsule contains 10 songs plus an intro and will be available as a digipak as well as an LP version and download. It's Ford`s gift to fans who love the '80s, when thrilling vocal performances, raunchy riffs, and loud, growling guitars were as essential as oxygen. Time Capsule is available for pre-order here.
Time Capsule Track Listing:
1. Intro 1:35
2. Where Will I Find My Heart Tonight 04:47
3. Killing Kind 04:49
4. War Of The Angels 05:44
5. Black Leather Heart 03:33
6. Rotten To The Core 04:21
7. Little Wing 03:01
8. On The Fast Track 03:41
9. King Of The Wild Wind 05:04
10. Mr. Corruption 04:15
11. Anything For The Thrill 03:25
Lita Ford Live 2016:
US/Canada
2/12: Houston,TX – BFE Rock Club
2/13: Tyler,TX – Rock N´Valentines Festival
2/14: Fort Worth,TX – The Rail Club
2/20: Enoch,AB – River Cree Resort
3/5: Beverly Hills,CA – Saban Theatre
3/19: Toledo,OH – Savage Arena
4/24: Ladson,SC – 98 Rock Fest
Europe
08.-11.06. SE-Sölvesborg – Sweden Rock Festival
13.-14.08.B-Kortijk – Alcatraz Festival
More dates will be added soon.
Rock Hard \m/