We like scary. We like the unknown. Thus, we like Rich Fox' The Blackout Experiments and what the movie's first clip is showing us! Watch the trailer above and let us know what you think in our comments section below.
The first thing that you might notice is that this is definitely a shaky-cam, first-person affair, which may or may not turn off a lot of would-be movie goers. But for those of us who don't mind this perspective and enjoy a bit of intrigue with our horror, we might just explode with rays of light!
We'll have to wait to see how good this thing actually is. At the moment it looks like one of those "dine in total darkness" dinners meets The Amazing Race meets Scare Tactics meets Paranormal Activity.
Along with the first clip, The Blackout Experiments has also unveiled a poster, which you can check out below. The Blackout Experiments stars Josh Randall, Kristjan Thor, Russell Eaton, Bob Glouberman, Allison Fogerty, and Abel Horwitz, and it's to make its world premiere at the Sundance Film Festival, beginning this Sunday, January 24th.
The Blackout Experiments Synopsis:
A group of friends discover the dark underworld of the ultra-scary, psychosexual horror experience called Blackout. But what starts as a thrill ride through the unknown becomes deeply personal, developing into an obsession that hijacks their lives and blurs the line between reality and paranoid fantasy.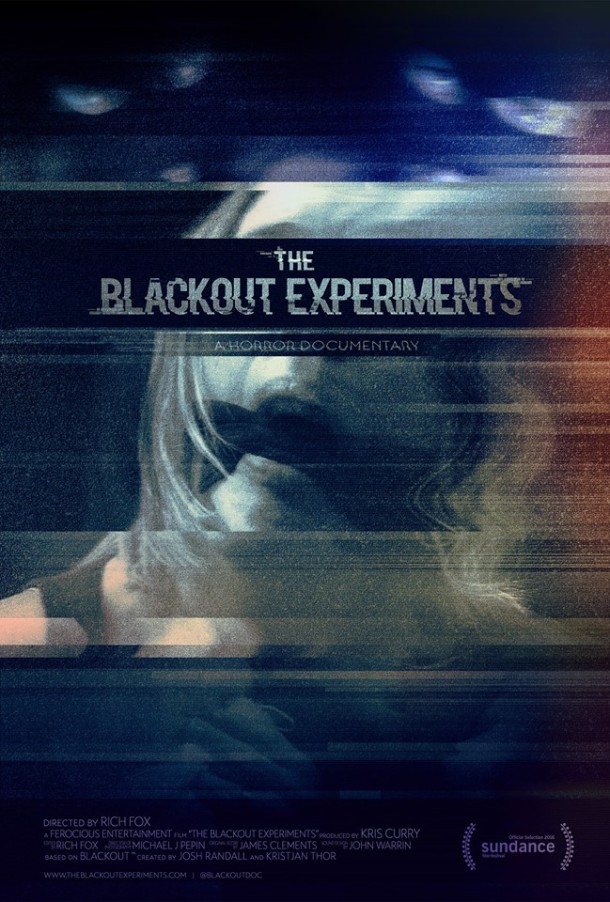 Rock Hard \m/