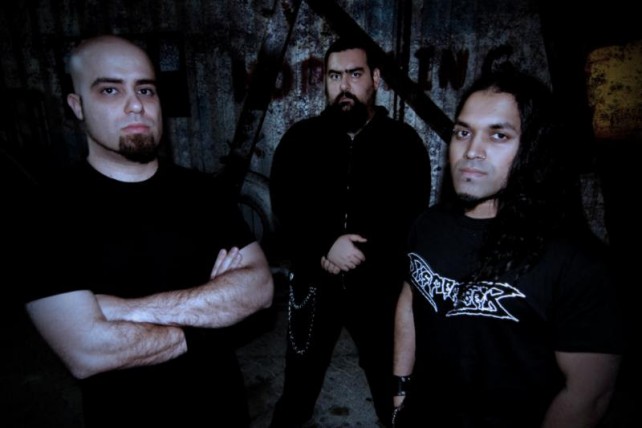 Ah, man! OK, I know Nervecell's album, Psychogenocide, was released in 2011, but I just got my hands on it via promotion. And while I've been listening to it (and blown away each time) for the last week or so with the intention of writing a review, this damn news comes in: Nervecell is heading back into the studio to begin recording a new album for a 2016 release (Unique Leader Records)!
The band has issued the following:
We have been working on new material for quite some time now and already have a few songs arranged and finalized with a lot more ideas still floating around at this stage. With all the extensive touring schedules and experiences we've had during the last four years, it's only become more certain that the way forward for us musically is to dwell more into the extreme direction, fueled together with that Middle Eastern rage in our music and maintaining the classic Nervecell death/thrash stance. So rest assured, no one will be disappointed!
Nervecell's latest album, Psychogenocide, reaped many awards, including the "All Time Best Selling Metal Band" in the Middle East and North Africa region. The band received a plaque of recognition from Virgin Megastores (MENA) in January of 2012, certifying this huge accomplishment. Psychogenocide was also cited as one of the "Top 10 Death Metal Albums of 2011" by media outlets globally including Metal Hammer Magazine (UK), naming Nervecell one of the "Defenders of the Faith," listing Nervecell as one of the "50 Heroes of the New Metal Revolution."
Nervecell's Psychogenocide was released in April 2011, via Lifeforce Records. Produced and engineered by guitarist Rami H. Mustafa at Spellbind Studio in Dubai, UAE with drums engineered by Joe Haley at Red Planet Studios in Hobart, Australia, then mixed and mastered by Wojtek and Slawek Wieslawscy at Hertz Studios (Behemoth, Vader, Decapitated) in Bialystok, Poland, Psychogenocide boasts Psycroptic's David Haley on session drums, as well as a guest vocal appearance from Nile's Karl Sanders on "Shunq (To the Despaired… King of Darkness)."
Rock Hard \m/