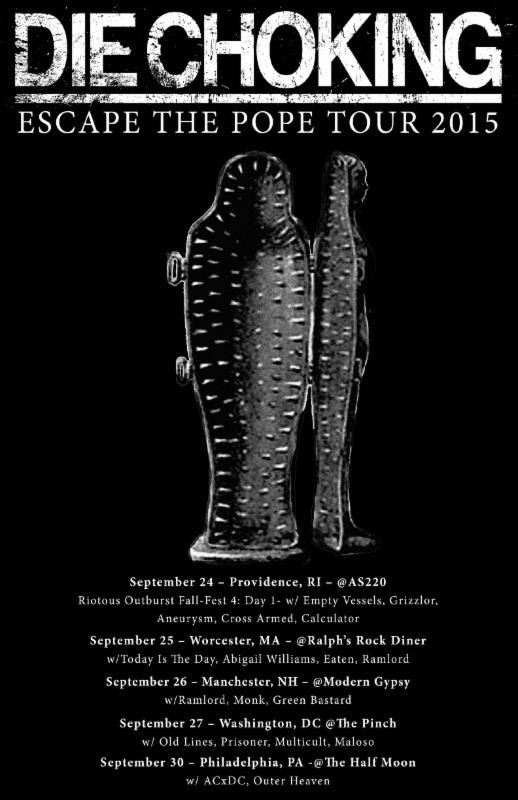 Grindcore act, Die Choking, has premiered yet another track from their impending debut LP release, III, which digitally hits the streets on October 8th, and then on vinyl on October 23rd. Head on over to Bloody Disgusting for an earful of "Millirem."
Bassist/vocalist Paul Herzog commented on the song:
This song represents an uncontrolled outburst of radiation at an instant of birth or death. Pulsation. Particles. Pre-existence. I have a rabid obsession with puking out waves of aural energy.
In a bout of anti-Pope celebration of the pontiff's visit to the U.S., Die Choking has rebranded their current tour Escape the Pope Tour 2015. See below for the list of dates.
Die Choking Tour Dates:
Escape The Pope Tour 2015
9/24/2015 AS220 – Providence, RI @ Riotous Outburst Fall-Fest 4: Day 1 w/ Empty Vessels, Grizzlor, Aneurysm, Cross Armed, Calculator
9/25/2015 Ralph's Rock Diner – Worcester, MA w/ Today Is The Day, Abigail Williams, Eaten, Ramlord [info]
9/26/2015 Modern Gypsy – Manchester, NH w/ Ramlord, Monk, Green Bastard
9/27/2015 The Pinch – Washington, DC w/ Old Lines, Prisoner
9/30/2015 The Half Moon – Philadelphia, PA w/ ACxDC, Outer Heaven
III U.S. Record Release Tour Dates
10/22/2015 Bremen Café – Milwaukee, WI w/ No Brainer
10/23/2015 Hexagon – Minneapolis, MN w/ Deterioration
10/24/2015 The Mutiny – Denver, CO
10/25/2015 The Shredder – Boise, ID
10/26/2015 E.S.P. – Spokane, WA w/ The Drip
10/27/2015 TBA – Portland, OR
10/28/2015 Burnt Ramen – Richmond, CA
10/29/2015 Perez – Los Angeles, CA
10/30/2015 TBA
10/31/2015 skatepark show – Kansas City, MO
11/01/2015 Mr. Roboto Project – Pittsburgh, PA
11/07/2015 Boot n' Saddle – Philadelphia, PA *record release show w/ Mother Brain, Grin & Bear It, Surgeon
11/13/2015 The Burners – Bethlehem, PA *record release show w/ Carved Up
11/14/2015 Voodoo Brewery – Meadville, PA w/ Carved Up
11/15/2015 Saint Vitus Bar – Brooklyn, NY w/ Carved Up
12/05/2015 ICAC Hall – Gloucester City, NJ @ South Jersey Metal Fest 4 w/ Rivers of Nihil, Corpse Horder, more
Rock Hard \m/