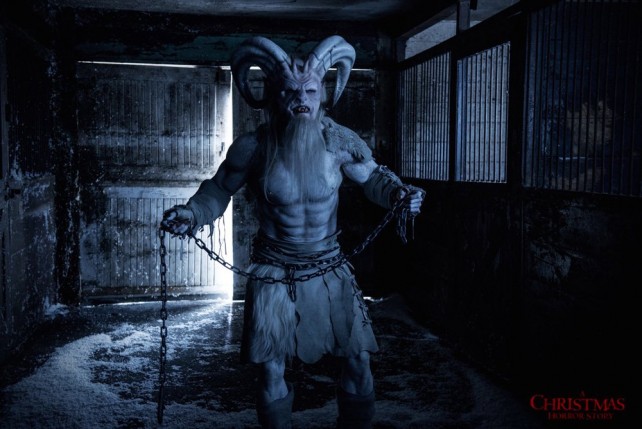 Ahead of its much-anticipated world premiere at the 2015 Fantasia Film Festival, we are happy to report A Christmas Horror Story has been acquired by Image Entertainement for rights to release the film in the U.S.. So, this techinically means U.S. Americans will also have a chance to catch the Canadian horror film in selected theaters and VOD in the not too distant future.
Ottawa born director Steven Hoban stated:
We are so happy that Mark Ward and his helper elves at RLJ Entertainment, are releasing this film in the US. We couldn't have hoped for better accomplices in our efforts to bring terrifying fun to the holidays.
Starring William Shatner (Star Trek) and George Buza (X-Men), A Christmas Horror Story premieres tonight at 9:55 P.M. at the J.A. De Seve Theatre in Montreal.
A CHRISTMAS HORROR STORY brings a scary twist to the traditional Christmas tale, said Mark Ward, RLJ Entertainment's Chief Acquisitions Officer. With the legendary William Shatner and horribly fantastic creatures, genre fans will never see this happy holiday the same way again.
See you guys there!
---
About A Christmas Horror Story
CHRISTMAS: a time of Joy, Peace and Goodwill, unless you happen to live in the town of Bailey Downs. Here, on Christmas Eve, joy is corrupted when a malevolent spirit traps three teens in a school basement intent on recreating a twisted version of the Nativity story. Peace is shattered when a family returns from a snowy forest with the perfect Christmas tree only to find something is terrifyingly wrong with their seven-year-old son. And goodwill is perverted when a not-so-nice family is hunted down by Krampus, the demonic anti-Santa Claus of Nordic mythology. Even Santa Claus himself is drawn into the horror when he has to fight off a horde of howling Zombie Elves before making his rounds. This Christmas, the creatures are stirring and they're coming for you whether you're naughty or nice.