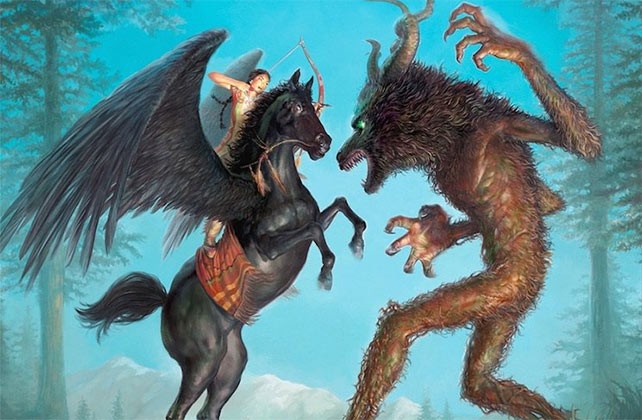 The 19th edition of the Fantasia International Film Festival finally kicked off today in Montreal, which means it's time for us to give you our very first Top 10 must-watch movie list. If you haven't planned anything yet, then let this be your guide to Fantasia 2015.
Unlike last year's list, I toned down my picks in the horror genre because I realize there's other great shit in this world. In case you haven't realized it, horror isn't the ONLY thing we cover on Yell! Magazine! We like bizarre and obscure films too! Especially films we wouldn't dare watch with the average Joe. This list is targeted at hardcore moviegoers who hate mainstream crap like Marvel's Ant-Man. Yeah! It's a bit sad that it played on the fest's opening night, but hey, look at the great shit Fantasia has to offer below.
We promise you won't regret watching any of these screenings. So, enjoy and make sure to check out our second list. By the way, the festival runs from July 14th to August 4th.
---
No.10 I AM THOR
Director: Ryan Wise
If there's any larger-than-life rock 'n' roll god that deserved his own documentary, it's Thor, and filmmaker Ryan Wise brings the legend back to Earth in a way that's sad, heartwarming, funny and ultimately inspiring. Forty years on the fringes of heavy metal stardom have taken their toll, but that in no way dampens Thor's spirit, desire to please or ability to put on a great show, and I AM THOR shows that no matter how hard it can be to rock, sometimes it all magically comes together in a way that only a Norse god can make happen.
Screening Time:
July 19 • 9:45 PM – Concordia Hall Theatre
---
No.9 REMAKE, REMIX, RIPOFF: ABOUT COPY CULTURE AND TURKISH POP CINEMA
Director: Cem Kaya
A rollicking, high-octane treasure-trove of extraordinary film history and cinephile kookiness — and inspiration — the seven-years-in-the-making REMIX, REMAKE, RIPOFF is here to school you on an industry that was the very definition of special. This was an era when Turkey had zero copyright laws so everything — title, concept, musical score, even full-on footage from a pre-existing production — was fair game.
Screening Time:
August 4 • 5:30 PM – J.A. De Seve Theatre
---
No.8 BUNNY THE KILLER THING
Director: Joonas Makkonen
The opening to Charles Dickens' classic A TALE OF TWO CITIES has absolutely nothing do with the Finnish horror comedy BUNNY THE KILLER THING, and yet, it has everything to do with it. It speaks of a winter of despair — here the harsh Finland winter setting of the film — and a season of Darkness — here a long night of horror with a murderous creature.
Screening Time:
July 25 • 11:55 PM – Concordia Hall Theatre
---
No.7 Roar
Director: Noel Marshall
Barely released in 1981, ROAR has been rescued from obscurity by Drafthouse Films — and as you watch everyone flee in what is clearly genuine fear from their furry co-stars, it's hard to know whether to be horrified or gasp in incredulous laughter at the ridiculous risks Marshall put his loved ones through.
Screening Time:
July 17 • 5:30 PM – Concordia Hall Theatre
---
No.6 Ryuzo and the Seven Henchmen
Director: Takeshi Kitano
Following his powerful diptych OUTRAGE, Japanese master of cinema Takeshi Kitano gets back to the business of comedy with RYUZO AND THE SEVEN HENCHMEN, a riotous geriatric farce starring the legendary Tatsuya Fuji (IN THE REALM OF THE SENSES).
Screening Time:
July 27 • 7:20 PM – Concordia Hall Theatre
---
No.5 Love & Peace
Director: Sion Sono
Describing a Sion Sono film is always a challenge, but this time, the creator of the masterpieces LOVE EXPOSURE and SUICIDE CLUB surpasses himself! With LOVE & PEACE, he fuses together tokusatsu films, the musical and fantastic comedy, throwing in talking toys that inhabit a fairlyland in the Tokyo sewers and casting a critical but loving eye on contemporary Japan.
Screening Time:
July 26 • 9:45 PM – Concordia Hall Theatre
---
No.4 Cooties
Director: Jonathan Milott, Cary Murnion
While most zombie movies treat kids as untouchable survivors, COOTIES joyfully has its heroes hack, slash and smash their way through the ankle-biter outbreak, with everything from hockey sticks to a pick-up truck. With ruthless killer kids and a killer cast, first-time feature directors Jonathan Milott and Cary Murnion keep both the gore and gags coming fast and furious, in movie that's made for Fantasia's more ravenous genre fans.
Screening Time:
July 17 • 10:00 PM SOLD OUT – Concordia Hall Theatre
---
No.3 Singham Returns
Director: Rohit Shetty
SINGHAM charmed audiences when it was screened at Fantasia 2012. All those in attendance can testify to the unforgettable nature of the evening. Ajay Devgn reprises the role of the enigmatic detective and delivers one hell of a performance. Reunited with his good friend, director Rohit Shetty, he proves decisively that the first opus' success wasn't a fluke.
Screening Time:
July 21 • 9:30 PM – Concordia Hall Theatre
---
No.2 Turbo Kid
Director: François Simard, Anouk Whissell, Yoann-Karl Whissell
Funny, inventive, stylish, gory, action-packed, sweet-faced and eccentric to the core, the film stars Munro Chambers, Laurence Leboeuf and, as the supreme mega-villain Zeus, none other than Michael Ironside.
Screening Time:
July 23 • 7:00 PM SOLD OUT – Concordia Hall Theatre
July 31 • 11:55 PM SOLD OUT – Concordia Hall Theatre
---
No.1 Buddah's Palm
Director: Taylor Wong
Behold as the wacky and ludicrous BUDDHA'S PALM explodes across the screen in glorious ShawScope 35mm! This outlandish adventure easily extinguishes the aftershocks of the mega-blast of DEMON OF THE LUTE! Imagine kung fu meets STAR WARS!
Screening Time:
July 18 • 12:15 PM – J.A. De Seve Theatre
July 21 • 1:30 PM – J.A. De Seve Theatre