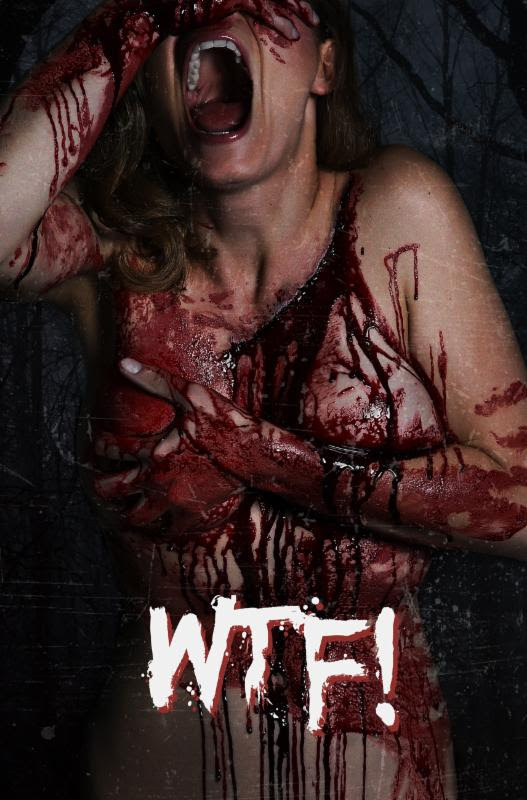 If posters sold movies (oh, wait, they do!), then we at Yell! Magazine would be first in line for WTF!, despite its trending name. The movie — which is less original in plot than it is just a fun horror ride — is set to begin principal photography around Los Angeles on June 15th.
Peter Herro is directing from a script he co-wrote with Christopher Centanni and Adam Buchalter. WTF! stars Callie Ott (The Horror), Sarah Agor (Hatchet II, Scream Queens), Andrea Hunt, Ben Norris, Johnny James Fiore, Nick Reilly, and Adam Foster.
WTF! Synopsis:
Three years ago, 22-year-old girl-next-door Rachel (Ott) barely survived a brutal massacre that left her friends in pieces. Time has passed, and Rachel has moved on, but unfortunately history has a way of repeating itself. Her close friends are spending spring break in a secluded house in the woods, and they have cordially invited her to join. Little does she realize that another bloodbath will be showing up as plus one. Once Rachel and her friends arrive at the cabin, the partying, sex, and terror begins.
From girls' only pillow fights to debauchery in the bedroom, it's going to be a blast… until the stabbing, flesh melting, and castration starts. Seven friends will go into a secluded house for the best spring break of their lives, but only one will be alive to post about it on Instagram the next week, as Rachel's biggest fears become a reality once again. Will Rachel survive another bloody massacre?
Kyle Zingler is producing. Executive producers are Steve Parker and Jody Wheeler.
Rock Hard \m/