Having inked a blood pact with underground overlords, Relapse Records, Miami, Florida's unhinged deathgrind maniacs, Maruta, will declare war on society by unloading their charged label debut, Remain Dystopian LP, now set to disrupt early June. While more tracks and other goodies will be released in the near future, today we have the new track "Stand In Defeat" for your listening pleasure (above). We also have the just-released cover art, track listing, and pre-order info!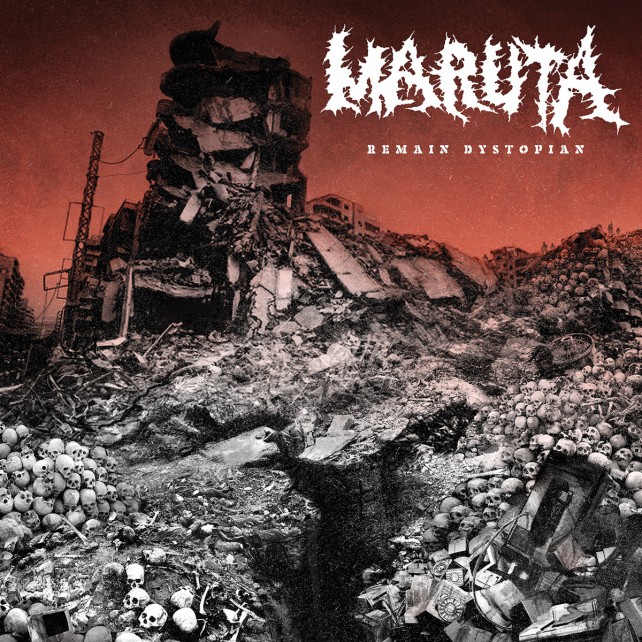 Remain Dystopian will see release on CD, LP, and digital platforms June 2nd, in North America, preceded by May 29th, in Germany, Benelux, and Finland, and June 1st, in the UK and the rest of the planet. Pre-orders for the physical versions are available here and digital pre-orders here.
Remain Dystopian Track Listing:
1. Genocide Interval
2. Hope Smasher
3. The Void Within
4. Minimal Progress
5. Protocol For Self Immolation
6. Absolutist
7. Stride Endlessly Through Scorched Earth
8. Submergence aka Barren Oceans Of Infinity
9. Erode
10. Stand In Defeat
11. Remnants Of Failed Utopia
12. I, Usurper
13. Durandal
14. Psalm For The Withered
15. Return To Zero
16. Slaying Jehova
17. Immune
Named after a special project during World War II in which the Imperial Japanese Army used human beings for torturous scientific experiments, Maruta has pummeled eardrums abroad through grueling tour ventures and inundated the masses with their bludgeoning, death-infused, grindcore concoction over the past decade. As organized as it is a clusterfuck of blinding rage, the band's malicious dedication and potent material has gained them a dedicated fanbase, on stage as well as through the release of their In Narcosis debut full-length through Willowtip Records in 2008, followed by the critically lauded Forward Into Regression full length in 2011.
Rock Hard \m/