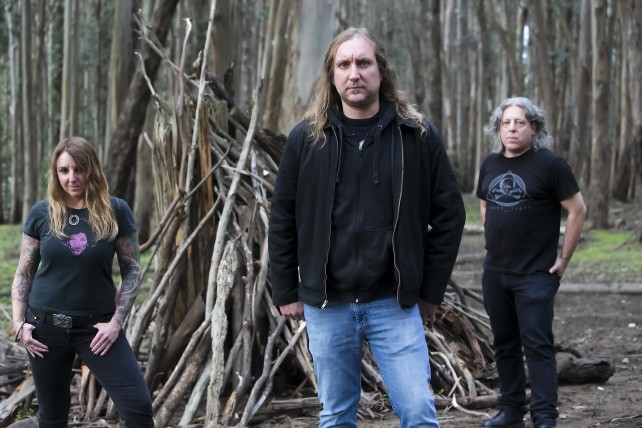 A red river is usually a bad omen, like a sign of the Rapture, but in the case of the new song, and first from Acid King's upcoming album, "Red River" is just sludgy doom metal bliss! The new track is streaming over at decibelmagazine.com — go check it out now!
Band founder, singer/guitar player Lori S. said of the song:
Put on your headphones and let 'Red River' slowly dissolve into your brain and travel through your body.
The forthcoming album, Middle of Nowhere, Center of Everywhere, will be released on April 17, 2015, and vinyl pre-orders can be made here.
The album was recorded at both Sharkbite and Tiny Telephone Studios in San Francisco, mixed at Different Fur Studios, and produced by Acid King and Billy Anderson. Famed tattoo artist Tim Lehi (High on Fire, Earthless) designed the cover art for the new album.
Acid King Tour Dates:
April 24 Berlin, Germany Desert Fest
April 25 Lisbon, Portugal RCA Club
April 26 London, UK Desert Fest
April 27 Brussels, Belgium Magasin4
April 28 Paris, France Glazart
April 29 Athens, Greece Kyttaro Club
May 1 Copenhagen, Denmark Heavy Days in Doomtown Festival
May 2 Osnabruck, Germany Bastard Club
May 3 Frankfurt, Germany Zoom
May 4 Munich, Germany Krahnhalle
May 6 Linz, Austria Kapu
May 7 Vienna, Austria Viper Room
May 8 Budapest, Hungary Roham
May 9 Innsbruck, Austria PMK
* Dates from April 27th to May w/Black Cobra
Rock Hard \m/