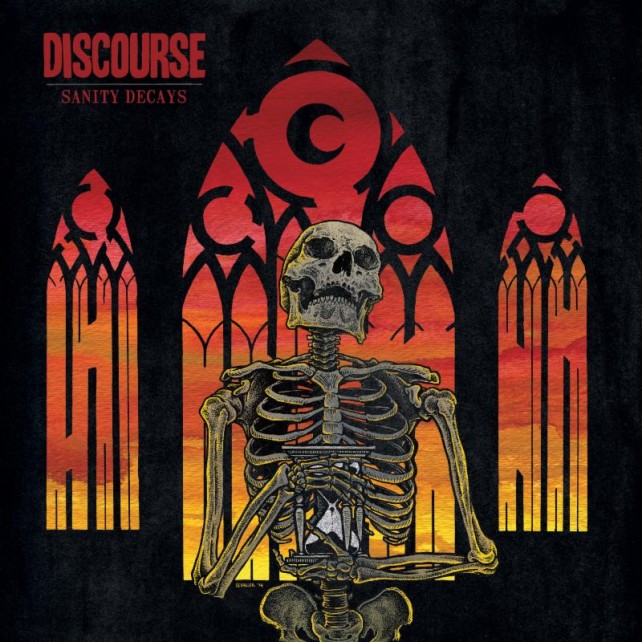 Discourse will be releasing their debut LP, Sanity Decays, on January 27th, via Closed Casket Activities. And to tease you until then, the South Carolina-based hardcore outfit has unleashed the pummeling new track "Time Pries." Go check out the madness at Blow the Scene.
Sanity Decays was recorded with Andy Nelson (Weekend Nachos) at Bricktop Recording Studio in Chicago, the vocals captured at The Jam Room with Jay Matheson in the band's hometown, and the album was mixed by Nelson and mastered by Brad Boatright at Audiosiege (Integrity, Nails, Tragedy). That amazing cover art? That was done by Jesse Schaller (Skeletonwitch, Xibalba, Suburban Scum).
Following their upcoming Southeast U.S. tour with Blistered, running from February 4th through the 10th, and including Midwest Blood Fest with Bitter End, Fire & Ice, Naysayer, Bent Life, and many others in Louisville, Kentucky, Discourse has also been added to this year's installment of the New England Metal & Hardcore Festival in Worcester, Massachusetts, set to play Friday, April 17th, alongside the likes of Code Orange, Homewrecker, Overcast, and more.
Discourse Tour Dates:
2/04/2015 The Forge – Birmingham, AL w/ Blistered
2/05/2015 Corcosa House – Memphis, TN
2/06-07/20015 Nelligan Hall – Louisville, KY w/ Blistered @ Mid West Blood Fest
2/08/2015 The Livery – Dayton, OH w/ Blistered
2/09/2015 Cafe Coco – Nashville, TN w/ Blistered
2/10/2015 TBA – Chattanooga, TN w/ Blistered
4/17/2015 The Palladium – Worcester, MA @ New England Metal & Hardcore Fest
Rock Hard \m/