Directed by Jay Lee Written by Jay Lee
Starring Jade Dornfeld, Tamara Feldman, James Duval

90 mins - Horror | Thriller - Release date: 24 May 2014 (select theaters)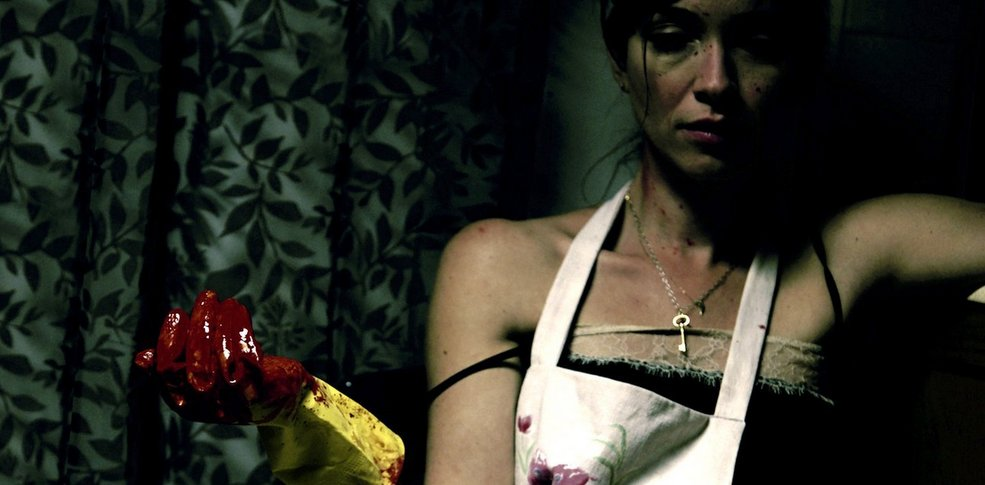 Alyce Kills is the splatter version of the 1992 Barbet Schroeder thriller, Single White Female, and I have no qualms saying that because writer/director Jay Lee (Zombie Strippers) practically says so through the movie's dialog.
At the start of the movie, it genuinely feels like Alyce (Jade Dornfeld) and Carroll (Tamara Feldman) are besties. Their banter is realistic, they have inside jokes, and they're at ease with each other. The effect that's created is as if the camera wasn't there, as if we're privy to an inside view of these two girls on this fateful night. For his writing and his direction, Jay Lee must be commended.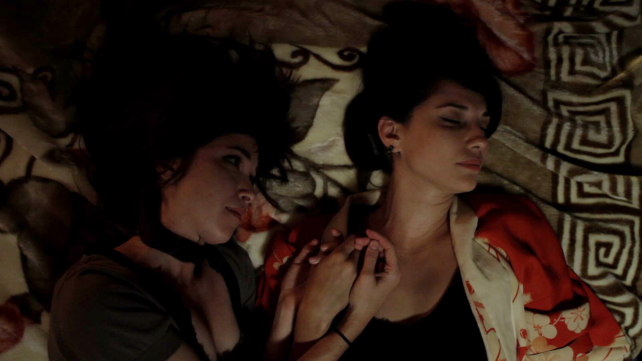 As most gilding things are, this relationship is far from perfect. Gradually things unfold to the audience, indicating that Alyce has some issues that mostly have to do with obsession. As the film progresses after Carroll "falls" from a rooftop, both Alyce and the movie dive into the deeper and darker waters of sociopathic behavior. And that's what Alyce Kills is really about; it's about guilt and an extreme example of the irrational behavior it can cause.
Often, irrational behavior driven by guilt can lead to drug abuse. And that's exactly the road Alyce goes down, which opens the door for the very poetic drug dealer Rex (Eddie Rouse). His world and social views, which he so desperately desires to vocalize, are compelling, if not eloquently stated in a streetwise manner. His desire to express himself comes to a head when he asks Alyce to sit and listen to him in exchange for drugs rather than the usual sexual transaction. Rex has two cronies that are mildly humorous, but in the end they're only there to add to the body count.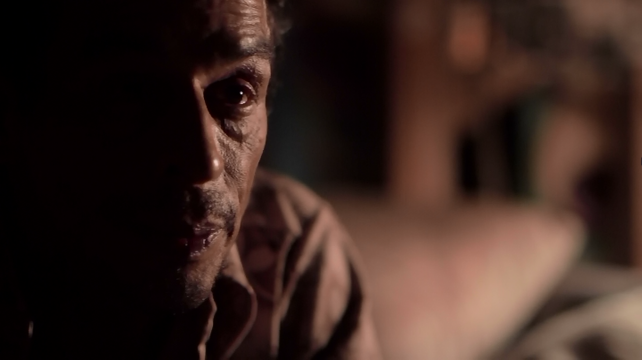 Alyce Kills also has some comedic moments. I won't get into specifics as explaining them would give away some scenes, but I will say that the scene between Alyce and Kurt (Max E. Williams) is gold, especially when she falls off the bed. You can watch that on a loop, make a GIF out of it, whatever. Some of the humor is slapstick, some of it is black, and some of it is so subtle that you might miss it.
So where's the gore? With a title like Alyce Kills and the bloody bat on the box art, there has to be some gore, right? Don't worry. It takes some time, and Carroll's stomach-churning smashed-in face as she lies helpless in her hospital bed is only the beginning. What Alyce undertakes with human bodies is the equivalent to someone trying to slice a tomato with a sledgehammer.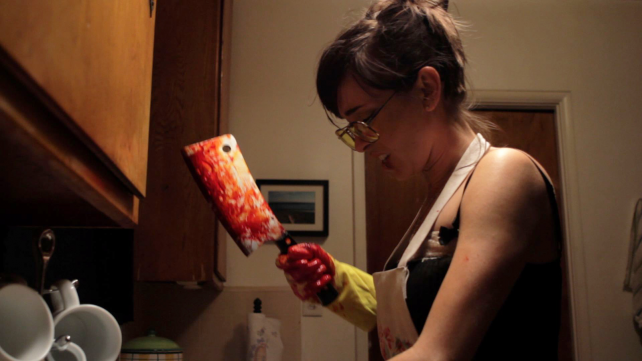 The Verdict:
Alyce Kills has a bit of everything for everyone -- humor, character study, psychology, and gore -- making this a highly entertaining ride. This movie has repeat viewing value, so I'm going to make an obvious recommendation to watch. Jade Dornfeld was great as a mousey Alyce and Jay Lee is definitely headed in the right direction.