But first, have you seen Cancer Bats' latest video, "Satellites"? Watch it in the player above and then tell me how much this Canadian hardcore band loves their drummer, Mike Peters. Kids, don't try what's going on here at home.
That's not exactly news. The news today is that Cancer Bats will have their upcoming album, Searching for Zero, released in the U.S. Metal Blade records will release the band's fifth album on March 10, 2015. In addition to that, Cancer Bats are currently planning a 2015 North American tour in addition to the UK tour that begins in April and co-headlines with While She Sleeps.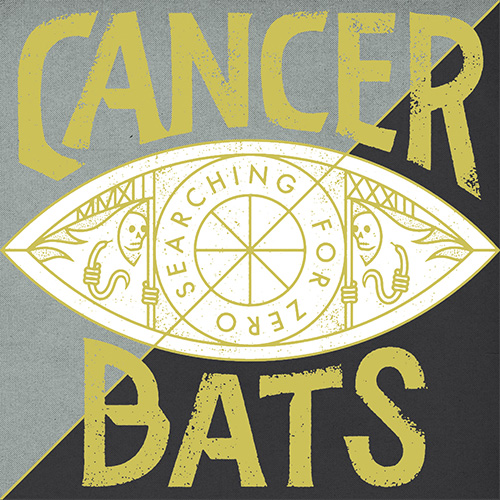 Fans interested in pre-ordering Searching for Zero, can do so here.
Searching for Zero was produced multi-platinum producer Ross Robinson (At The Drive-In, Slipknot, The Cure, Sepultura, Glassjaw). Inspired by both Robinson and their metal idols Black Sabbath, whom they cover extensively under their alter ego, Bat Sabbath, the 10 songs that make up Searching for Zero boast a more raw and organic tonal signature than any previous Bats release. Robinson brought a bare-bones aural aesthetic to the material, capturing a sound that unites the thrashy metal-tinged hardcore of the band's previous releases with a meaty lo-fi intensity, found only in their live shows amongst the sweaty masses. The melodic elements both musically and vocally were inspired by the bands love and admiration of Black Sabbath.
Vocalist LIam Cormier commented on Robinson's involvement:
In learning all those Sabbath songs, I ended up having to figure out how to really sing. In the studio Ross was the one really pushing me to use that new voice I had discovered.
Cormier also discussed where the band was at during the writing and recording of Searching for Zero:
We were coming out of what was a really heavy year for all of us, with a lot of challenges, non-stop touring and the deaths of people really close to the band. With all of these things we've had to deal with this past year, we were all at the point of saying 'No More Bullshit,' we've dealt with everything, nothing is standing in our way. We've found our absolute zero, where there can no longer be a negative, and from that point, everything moving forward can only be positive. And that positivity – that willingness to change what you can and let go of the rest – is the source of resolution. There are real reasons we do this. We love being in this band, and we love the people that we're lucky enough to share this with.
Rock Hard \m/