Death metal giants Obituary have recently released the first track from their upcoming album, Inked in Blood (due out October 28th). Bang your head to "Visions in my Head" in the player above.
After you re-attach your head, head on over to Relapse Records site to pre-order Inked in Blood. The album will be released on CD/Deluxe CD/2xLP/Digital/Deluxe Digital. The limited-edition, one-time-press deluxe CD includes two exclusive bonus songs and is packaged in a 3-D embossed digipak along with a die-cut album cover sticker. The bonus songs, available on the deluxe CD and digital versions, are two classic tracks ("Intoxicated" and "Bloodsoaked"), from *Slowly We Rot, re-recorded this year live out of Morrisound Studios in Tampa, Florida, and engineered by legendary death metal producer Jim Morris. A special vinyl color will be available exclusively via each of the following means: North American Indie Stores, Florida record stores, Relapse.com, and for Kickstarter backers.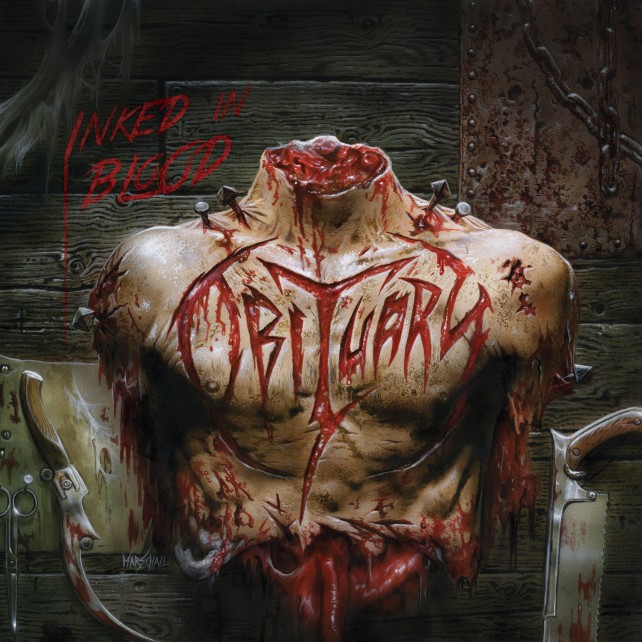 "Visions in My Head" is currently being offered as a free, instant download when you pre-order the album on iTunes, or you can purchase the single here.
In support of their new album, Obituary will hit the road this fall, with Carcass, Exhumed, and Noisem in tow from October 28th through November 9th. Then after a quick break the band will provide direct support for the upcoming "Death to All" Tour. Obituary has also been confirmed for 2015 edition of Maryland Deathfest. A complete list of dates can be found below.
Inked in Blood Track List:
1. Centuries of Lies
2. Violent By Nature
3. Pain Inside
4. Visions in my Head
5. Back on Top
6. Violence
7. Inked in Blood
8. Deny You
9. Within a Dying Breed
10. Minds of the World
11. Out of Blood
12. Paralyzed With Fear
Obituary Tour Dates:
9/27: Reading, PA @ East Coast Tsunami @ Reverb
w/ Carcass, Exhumed and Noisem
10/28: Tucson, AZ @ The Rock
10/29: El Paso, TX @ Tricky Falls
10/31: Oklahoma City, OK @ Chameleon Room
11/1: Lawrence, KS @ Granada
11/2: Sauget, IL @ Pops
11/4: Raleigh, NC @ Lincoln Theater
11/5: Richmond, VA @ The Broadberry
11/6: Asheville, NC @ The Orange Peel
11/7: Nashville, TN @ Exit/In
11/8: Louisville, KY @ Diamond Pub & Billiards
11/9: Cincinnati, OH @ The Madison Theater
Death to All Tour:
w/Massacre and Rivers of Nihil
11/14: Los Angeles, CA @ Club Nokia
11/15: Ramona, CA @ Ramona Mainstage
11/16: San Francisco, CA @ DNA Lounge
11/18: Seattle, WA @ Studio Seven
11/19: Vancouver, BC @ The Rickshaw Theater
11/21: Calgary, AB @ MacEwan Ballroom
11/22: Regina, SK @ Riddell Centre
11/23: Winnipeg, MB @ Park Theatre
11/24: St. Paul, MN @ Amsterdam Bar & Hall
11/25: Chicago, IL @ Metro
11/26: Cleveland, OH @ Agora Theater and Ballroom
11/27: Toronto, ON @ The Opera House
11/28: Montreal, QC @ Le National
11/29: Allston, MA @ Brighton Music Hall
11/30: New York, NY @ Best Buy Theater
12/3: North Springfield, VA @ Empire
12/4: Charlotte, NC @ Tremont Music Hall
12/5: Atlanta, GA @ The Masquerade
12/6: Tampa, FL @ Orpheum
12/7: Miami, FL @ Grand Central
Maryland Deathfest XIII (2015):
5/21 – 5/24: Baltimore, MD
Rock Hard \m/