Artist Invent, Animate Album Everchanger Year Released: 26 August 2014
Label Tragic Hero Records Genre Metalcore
It is the end of summer, the last heat wave is scorching the very environment around you. Back to school weather flusters your body into overheating, nothing is comfortable except the grace of air conditioning/swamp cooling units wherever applicable. You find a place with cool air, ice cold water, and maybe even a few beers, talk about refreshing. That glimpse of cool air brings with it a breeze, and in that breeze is Invent, Animate unleashing their new album amidst the stale mugginess of metalcore.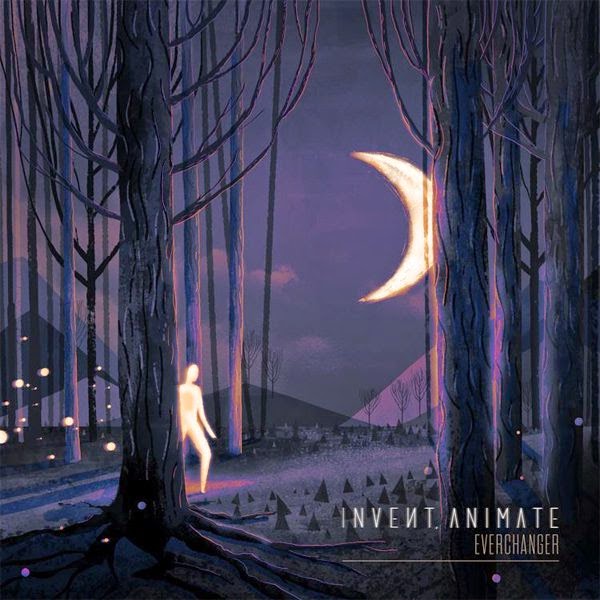 Everchanger kicks off with a question about believing in love. Are we victims of the same wants, beliefs, and actions? It sparks the album much like the first song should, especially with the title of "Sol." "Naturehold" brings with it not only the best track on the record, but a cry of desperation from Erra singer Jesse Cash. This guest vocal spot is urgent and carnal, giving the gloomy song a bright light to get hooked on. Ben English's harsh screams have an excellent amount of depth, flowing from growling lows to intense and raspy mids. He is able to add power to the introspective music, allowing his fluctuating depth to help tracks like "Eventide" and "Half-Life" become syncopated wonders. The sporadic stop-and-go of the former is highlighted by atypical time structures, and English keeps his composure and graces the part with bellowed cries.
The technicality of the instruments brings layers and layers of musical structures to love. "Nocturne: Lost Faith" brings about the most progressive instrumentals, focusing on tapped guitar leads and spiraling guitar riffs. The crystal clear tone of the softer parts show the unique dynamics the band can create, making each part sound luscious and approachable. The talent of the chaotic builds help overshadow the breakdowns, which are becoming a generic standard of the genre ("Moon Phase" is littered with them).
Invent, Animate keep their pace throughout Everchanger. The 10 tracks are packed full of interestingly heavy riffs and swirling leads, backing off every now and again to formulate cleans into the mix. "Luna" closes the album, completing not only the album but the thematic start from sun to the moon. The song is emotionally charged with the tranquil vocals pausing the music to sing out, "and now time has left me here to heal, the last thing that I want to do is feel." English unleashes his most shriveling screams in the final moments.
The Verdict:
Everchanger is a gripping metalcore album laced with enticing elements to keep listeners intrigued for the entire 37 minutes. From destructive instrumentals to visceral screams, Invent, Animate are talented and focused. The dangerous combo allows the album to gain ground above the rest of the genre.