Our approach to our Heavy Montreal Day 2 coverage varied slightly from Day 1's. Instead of providing you with tiered updates in the form of articles, or traditional types of reviews, we gave you a live blog so that you could experience what we experienced, when we experienced it to some degree. Hopefully you enjoyed that and felt like you were a part of the party.
However, live blogging means that you get a big, fat-ass review of the whole day in one shot. So, here we go:
Death Angel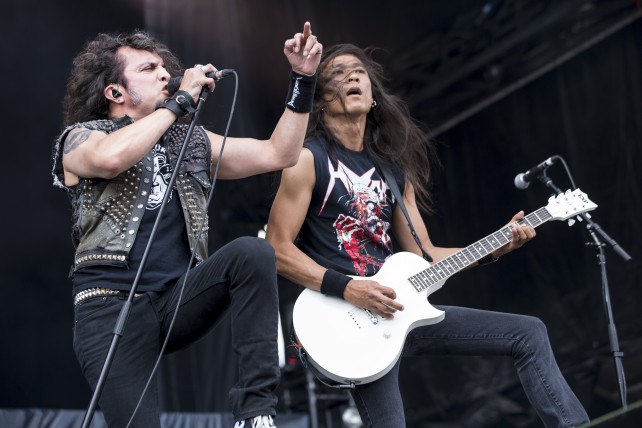 Death Angel is definitely one of the best and most intense thrash metal bands out there. Replacing DRI at Heavy Montreal, they weren't left with a huge time slot, and they definitely could have used more; fans liked it and the band liked it. With a limited amount of time, Death Angel were forced to play a mix of new and old, and then there was only time for that sweet intro to "Ultraviolence."
Nashville Pussy

Nashville Pussy's set got underway while Death Angel was still playing, so it was a quick dash over to their stage. Nashville Pussy is definitely not heavy metal, but they have a great Southern Rock vibe mixed with some old-school punk — that, my friends, is an excellent mix. I'm relatively new to Nashville Pussy, so I'm not fully knowledgeable of their songs yet. I can tell you that their performance was tight and that the crowd seemed to enjoy the music, even if they didn't know exactly what to do with the energy they were getting.
Exodus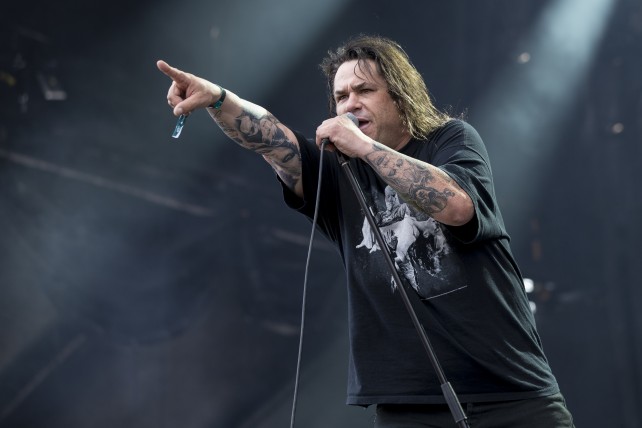 Again, Exodus began playing while Nashville Pussy was still on. So, we cut short our attendance at Nashville Pussy and missed the top of Exodus' set. By the time we got to their stage, they already had the daytime crowd in a frenzy, attracting the most fans thus far on Day 2, but it wouldn't compare to the size of the audience later that night when Gary Holt would play for them from the Slayer stage.
Epica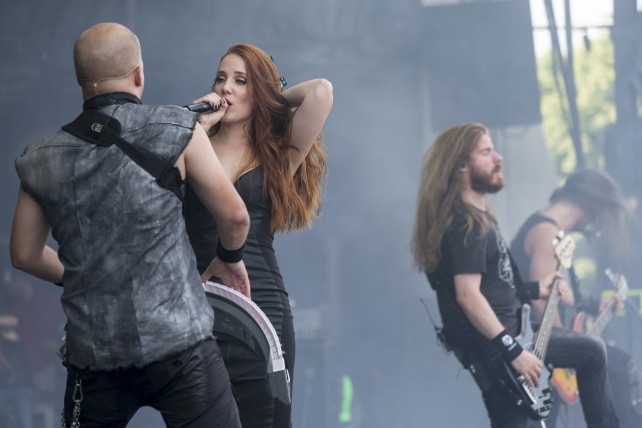 I almost missed Epica entirely because they switched time slots with Symphony X. Epica was just sensational to watch. Just watching them you get the sense that they truly love to play and that they have mastered their instruments. And the awesome thing, you'll know this if you listen to this Dutch band, is that they have struck the perfect balance for the different genres that have combined. The death metal, the symphonic metal, the operatic vocals, the thrash metal, and the progressive, it's all present, but none of it dominates and none of it ever gets cheesy. Also, note that Epica sounds pretty much as good live as they do on their studio albums.
If I'm not mistaken, Epica closed their set with "We Will Take You With Us."
Epica also mentioned that they'll be touring with Children of Bodom and Machine Head later this year. That's a lineup I don't want to miss.
Body Count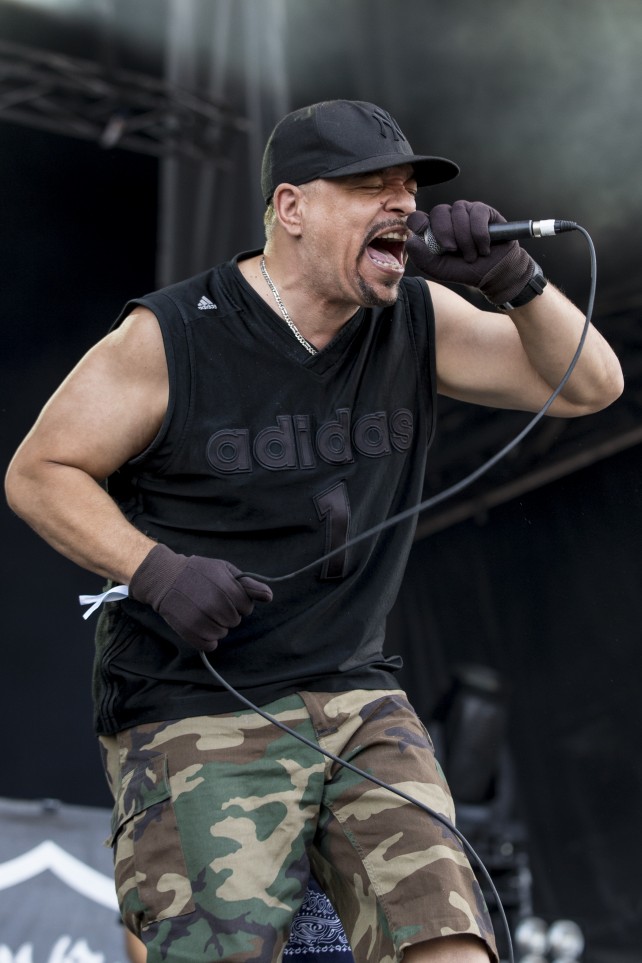 We had an interview to do during Body Count's set, which resulted in us missing the majority of the set. It happens a lot.
Despite having five studio albums, Ice-T, Ernie C., and others focused on the first, self-titled debut album and their latest, 2014's Manslaughter. The Body Count brand of hardcore brought the pit to life, the music was awesome, and Ice-T's communication with the audience was tinged with his twisted brand of humor. Good times for all.
Twisted Sister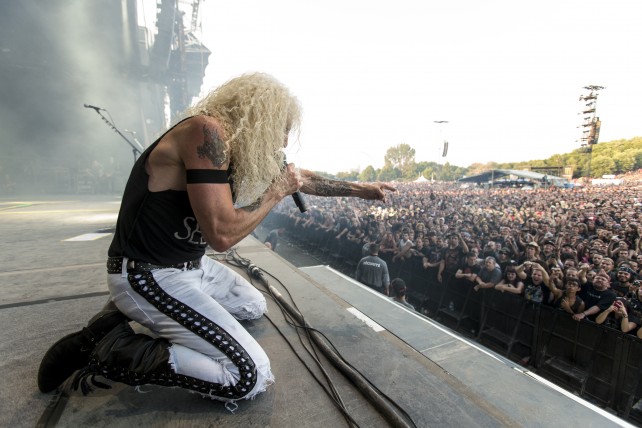 The boys from TS were perhaps the most fun band to see of all the bands at Heavy Montreal this year. You guys know that I love TS and feel that they are unfairly judged for their hits, which are great if not a little cheesy. (But that shit was appropriate in that era.) The cheese, however, didn't stop the thousands of metalheads from participating in the call and answer portion of "I Wanna Rock." In fact, I don't think even Metallica got the audience so involved vocally the night before, and that's saying something.
TS fans were treated to a full playthrough of TS' classic album Stay Hungry. So, we got the cheese, plus the real shit like "Burn in Hell," ""Horror-Teria," and "The Price."
Lamb of God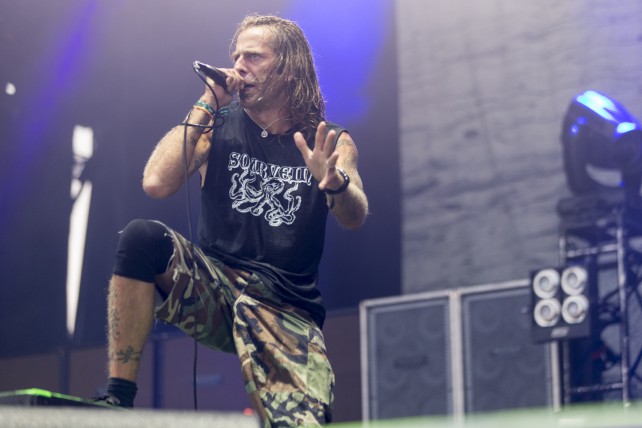 I skipped LOG to go prepare an interview. My partner in crime, King Hazard, saw the band and perhaps he'll give you his take on their performance.
Slayer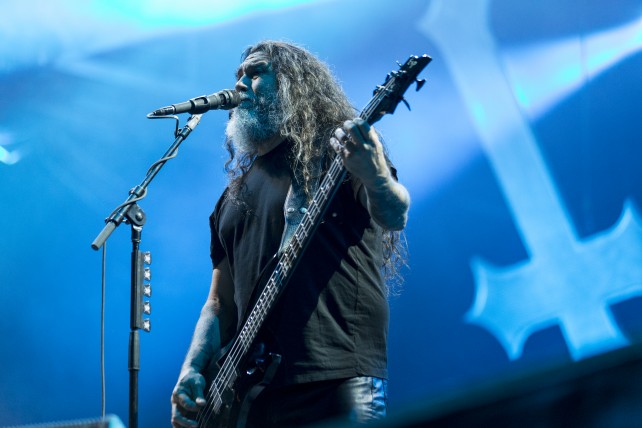 Who doesn't like Slayer? Stand up and don't let the door hit you on the way out.
Slayer headlined Day 2 at Heavy Montreal, and they sure made some heads roll with their classics… lots and lots of classics. Last time we saw them they played through all of Seasons, so it was nice to see them dig even further back into their bag of tricks.
As mentioned, Gary Holt from Exodus played with Slayer and he shredded. In fact, he looked like he was having the most fun on stage. Also, Paul Bostaph didn't give fans any reason to complain. Both guys killed it.
Tom Araya also killed it. I thought he sounded older (how dare he age), but he didn't ever sound wrong in the sense that he was trying to reach the vocal heights he reached 30 years ago. He kept his cool and has made the adjustments he's needed to.
As for sound, freaking awesome. The dueling guitars sounded spectacular, the levels were in the sweet spot, the bass was thumping… it was all just nice! There was a moment, however, when the volume made a sudden jump as if someone on the soundboard bumped the volume up to 11 with his elbow. Two second later, the volume was back to normal, so I'm assuming it was something physical that happened.
So, that's it from us. Yell! Magazine just wants to thank all the bands, PR personell, and Evenko for making Heavy Montreal 2014 a memorable one.
Rock Hard \m/